About
WHAT IS THE CMS?
The Community Music School (CMS) is a group of highly-qualified music instructors who offer private lessons, music classes, and ensembles for Winfield and surrounding communities. We offer voice lessons, instruction on any instrument including violin, cello, percussion, piano, flute, and viola.
Where?
CMS classes, private lessons, and workshops are located on the campus of Southwestern College in the lower level of Darbeth. We are located on the lower level of Darbeth Fine Arts. To find us, take King Hill Drive north. We are just north of the Darbeth facility. Please park on the West side and enter the doors marked Community Music School.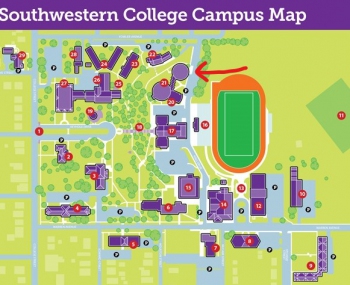 When?
Lessons occur at your convenience. Most students take a half-hour, 45-minute, or full-hour lesson once a week. Performance opportunities occur throughout the year, including recitals, and mini-concerts at local events.
---
OUR MISSION
The mission of the Community Music School at Southwestern College is to nurture the fine arts community of South Central Kansas and North Central Oklahoma with rich, musical experiences for people of all ages. Our vision is to encourage excellence in the arts by offering a wide array of private lessons, master classes, ensembles, performance opportunities, and more on the campus of Southwestern College.
---
GENERAL INFORMATION
Located in the lower-level of Darbeth Performing Arts building on campus at Southwestern College, the Community Music School (CMS) offers an array of musical activities for students, teachers, and performers of all ages. Any ensemble is welcome to join and be coached. A wide variety of classes are available semester by semester. All band and orchestra participants are invited to join the Southwestern College Jazz Band by talking to Jeremy Kirk, or the South Regional Kansas Symphony by audition with Dr. Amber Peterson.
For independent teachers, this is a great facility to launch your personal studio. You can write your own studio policy and use Darbeth to teach all of your students. You can also hold student recitals on campus!
If you are interested in taking private lessons, being a part of a ensemble, or learn how to hone your improvisational skills, the CMS will help you receive the education you need by studying with college professors, community members, or college students.
---
PRIVATE MUSIC INSTRUCTION AND CLASSES AVAILABLE
Private Music Instruction for a variety of instruments including piano, cello, violin, viola, flute, percussion, and voice. Private instruction is offered at your convenience.
Group Beginning Piano Class taught by Marsha Granberry meets on Thursday evenings beginning January 16.
Melody Builders Music and Movement Classes taught by Michelle Zakharov, CMS Director and Early Childhood Music Educator. Classes begin February 26, 2020.
New Classes Coming in 2020! Check Back Soon!

---
CMS ON FACEBOOK