Classes
Spring 2020 Offerings
Group Piano Class taught by Mrs. Marsha Granberry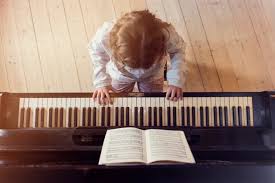 The Community Music School is so excited to add another age-level to our Beginning Group Piano class! In addition to our 6-8 year old class, we are adding a second class for 9-12 year olds beginning in January. These classes are designed specifically for these age groups and will give your child a great foundation to work from. All classes are taught by the incomparable Mrs. Marsha Granberry. Mrs. Granberry is a lifelong music educator and piano teacher and is pure MAGIC with her students!
Class Days/Times:
Ages 6-8 years: Thursdays at 7:00 pm beginning January 16, 2020
Ages 9-12 years: Thursdays at 7:30 pm beginning January 16, 2020
Class Fee: $80.00 for 8-weeks
Registration Fee: $20.00/year
---
Melody Builders Music and Movement Classes
Music Classes for Littles and Their Parents

Early childhood music and movement classes for babies, toddlers and preschoolers with a parent or caregiver designed to engage, inspire and teach children the joys of music.
Class Days/Times:
Level One, Ages 3-18 months: Wednesdays at 6:00 pm beginning February 26, 2020
Level Two, Ages 18 months-3 years: Wednesdays at 6:30 pm beginning February 26, 2020
Level Three, Ages 3-4 years: Wednesdays at 7:00 pm beginning February 26, 2020
Class Fee: $80.00 for 8-weeks
Registration Fee: $20.00/year
---