JourneyKids Choir
The Community Music School at Southwestern College is now accepting students Grades 3-8 of all experience levels for a new choral opportunity on the Southwestern College campus. Rehearsals are on Tuesday evenings from 5:30-6:30pm in Darbeth 207. Students are encouraged to come for a fun-filled, group learning atmosphere, focused on musical exploration. Please contact us for more information or a voice placement audition.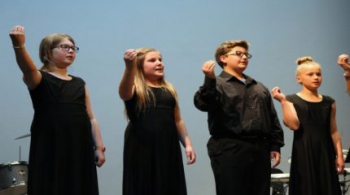 What is it?
JourneyKids Choir is a new choral opportunity for all students in Grades 3-8 in Winfield and the surrounding communities with a focus of building a relationship between the campus and community. The group will allow students the ability to sing out of specific repertoire from the elementary choral genre, which is not highly covered in the public schools. A focal point of the group will be the development of community within the group, providing an open and encouraging atmosphere for student bonding and comradery. The group will perform repertoire from various musical genres and eras with an emphasis on the highest quality standards and collaborative learning in an extremely interactive learning environment. Special attention will be given to the development of a unified and mature tone that is adaptable to a wide range of different musical styles. All experience levels are welcome, but an audition for voice placement, musical ability, and level of knowledge will be expected.
When does it start? What is the cost?
Rehearsals take place in Music Education Lab in Darbeth 207 on the second floor of Darbeth on the Southwestern College Campus on Tuesday evenings from 5:30-6:30pm starting October 8, 2019. There will be several performance opportunities throughout the semester. The fee per semester for involvement in the group is $15/month/student or $60/semester/student. Partial need-based tuition scholarships are available . Payments are made at the first rehearsal of each month or can be paid in full at the first rehearsal.
Sign up for JourneyKids Here »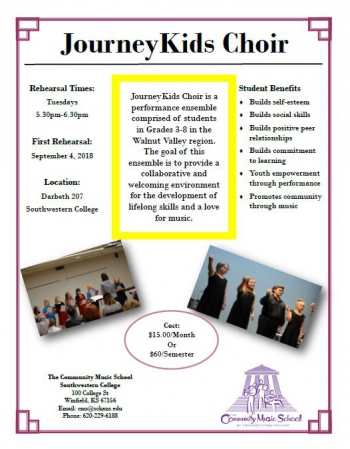 How do we get involved?
For more information, call the CMS at 620-229-6188 or email cms@sckans.edu.
Forms to fill out can include:
---
About the Director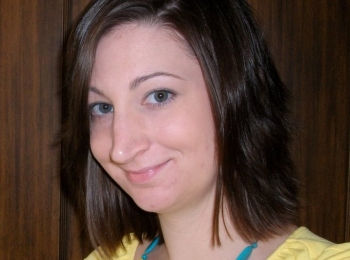 Nikki Kirk is a Music Educator in the Arkansas City, KS Public School District where she teaches Pre K-5th Grade General Music and is an active member of NAfME and ACDA. Nikki also serves as the Director of Music at the First Presbyterian Church of Winfield. Mrs. Kirk is in her tenth year of teaching and has taught general music, band and choir in the public schools of Kansas, in her home state of West Virginia, and served as an instructor at Coffeyville Community College. She received her BA in Music Education while studying trumpet and voice at Glenville State College (Glenville, WV), and is currently pursuing a Masters in Curriculum and Instruction at Southwestern College. As a performer, she has performed at the National Trumpet Competition in Washington DC and as a trumpet and vocal soloist at educational events in the Eastern and Midwestern regions of the U.S. She is an active adjudicator and clinician, as well as an arranger and drill writer. She resides in Arkansas City with her husband Jeremy (Professor of Bands at Southwestern College), son Clark (future percussionist), and daughter Chloe (projected to be a future vocalist based on toddler lung capacity).