Support Our Mission
Donations
For more than ten years, the musical community at CMS has been enriched by the kindness of friends who have generously contributed to our mission of artistic excellence and access for all. Your contribution helps us build a community where people of all ages and backgrounds can come together to develop musical friendships, strive for musical excellence, and enjoy a lifetime of participation.
If you are interested in making a donation of any amount, please email the CMS at cms@sckans.edu for more information on how to submit your donation. Thank you so much for your generous support.
---
Dillons Community Rewards Program
Dillons is committed to helping communities grow and prosper. The Community Music School has now made it possible for you to support the school's educational programming and its future through shopping at your local Dillons store. By enrolling in the Community Rewards Program, which is at no cost to the individual, all you have to do is shop at Dillons and swipe your Plus Shopper's Card to earn rewards that will support the CMS's mission of nurturing the fine arts community of South Central Kansas and North Central Oklahoma with rich, musical experiences for people of all ages.
A customer must have 3 things to register and begin supporting The Community Music School:
A Plus card, which is available at any store by asking an associate or online at Dillons

A valid email address, which can be obtained from any free online service and can be anonymous

A personalized account at Dillons' website
TO CREATE AN ONLINE ACCOUNT ON DILLONS WEBSITE:
Click "Register" at the top of the page

Enter your email address, password, zip code (select preferred store) and check the box if you desire to receive email communication from the company

Click "Create Account" at the bottom of the page

You will receive an email confirmation to your inbox, to activate your account click on the link in the body of the email and enter your sign in information to confirm.
TO ENROLL IN THE COMMUNITY REWARDS PROGRAM:
Sign in OR Create an account (see above to create an online account on the Dillons website)

Click "Enroll Now"

Enter the 5-digit NPO (24738) and search

Select The Community Music School at Southwestern College. and click on "Enroll"

Start shopping at your local Dillons to support the Community Music School!
Dillon's Community Rewards Enrollment Instructions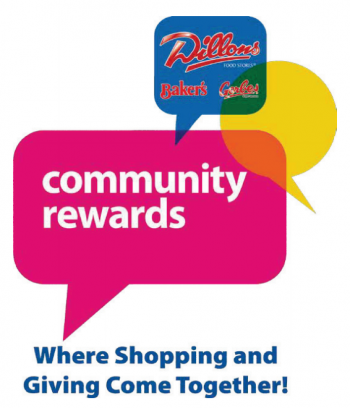 ---
GoodSearch GIVE
After you shop and save money through GoodSearch, they will give a donation in your name to the Community Music School. This would be a great way to shop for the holidays and fun occassions, and still giving back to children in the local area who are eager to keep learning music. https://www.goodsearch.com/nonprofit/community-music-school-at-southwestern-college.aspx