News
August 13, 2012
Mark your calendar and get ready for a great time at Family Weekend 2012! This special event is scheduled for Friday, Sept. 7th through Sunday, Sept. 9th.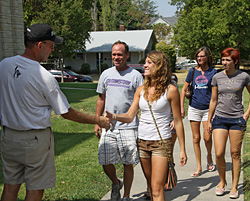 Family Weekend is the perfect chance for parents, siblings, grandparents, and friends of Southwestern students to experience what it means to be a Builder. The whole families are invited to spend a fun weekend with your daughter or son and learn why they love SC. Whether new freshmen or graduating seniors, we'll have opportunities for you to reconnect with your student and find out what has been happening in their lives.
We have a variety of exciting activities planned: See their residence hall room, visit classrooms, meet professors and key staff people, and walk around the beautiful campus. Paint a pumpkin, buy merchandise in the Moundbuilder Market or get your face painted at the football tailgate party. Attend soccer or the football games, eat lunch in the dining hall, or enjoy the wonder of Winfield.
When you arrive on campus, stop by the Welcome Center on College Street to register at the hospitality table. Pick up a schedule of events, campus maps, information on area restaurants and things to do, and coupons to local businesses.
September is the perfect time to visit the campus and connect with your student. Explore all that Family Weekend has to offer. This is your opportunity to be part of the amazing Builder family. We look forward to seeing you for Family Weekend!
For more information contact Lai-L Clemons at 620-229-6168 or e-mail lai-l.clemons@sckans.edu.