News
August 13, 2012
Aaaaah-choo!
Between unpacking their bags, reuniting with old friends and greeting new ones, and preparing for class, students have a tendency to forget about their personal health and wellness. The college wants to partner with you to insure that your student has thought through how they will respond in the case of an illness. Here are some simple but critical things to consider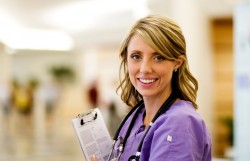 Communicate at the first signs of an illness
Many students will call home and let you know they don't feel well. Others will communicate with the campus community. Often the Residence Life and Student Life staff are the first line of contact. Frequently, student athletes will share their concerns with their coaches or athletic trainers. And a few will tell a friend or member of the college. No matter who the person they share their concerns with is, that person needs to help them come up with a plan of action. The Residence life, Student Life, coaches, and athletic training staff are excellent resources to help Moundbuilders think through how to feel better and direct them to the best resources. The worst thing a student can do is communicate with no one.
Determine who can best treat the illness
Because of the complexity of insurance, students need to work with their parents on how to handle an illness. If they have any questions, Residence Life, Student Life, coaches or athletic training staff can also be a resource for advice.
In the past, Southwestern provided part-time nursing services over the lunch hours. The college has discontinued these services, but will work with students on health care options in the community.
Because of this change, we are asking parents to make sure students have THOUGHT about who they would see. Below is a list of potential providers in the area. The student will need to contact these providers directly for appointments. Please understand this list is provided for information purposes only. You or your student will need to contact the provider directly to determine if they are seeing patients.
Medical History, Insurance Card, and Immunization Records
It is imperative that students carry their insurance card and understand their own medical history. They will need to be to contact their insurance company for a list of covered providers in the Winfield area. They may also be asked for a copy of their immunization records and photo identification.
What If…
If your student needs assistance with determining the best course of action, please have them contact the Student Life Office at 620-229-6391. If they need immediate attention, the hospital and health departments are only a few minutes away.

Cowley County Health Department
320 E. 9th Suite B
Winfield, KS
620-221-1430
William Newton Hospital
1305 East 5th Avenue
Winfield
(620) 221-290
---
Winfield Area Health Providers
Winfield Medical Arts
3625 Quail Ridge Road
Winfield
(620) 221-6100
Westside Clinic
221 West 8th Avenue
Winfield, KS
(620) 221-3350
American Family Practice
1230 E. 6th Suite 2B
Winfield, KS 67156
Health Professionals Winfield
1230 E 6th Ave # 1B
Winfield, KS
(620) 221-4000
Sunflower OB-Gyn
1230 E 6th Ave Suite 2D
Winfield, KS
(620) 222-6250
Cowley County Mental Health
22214 D St,
Winfield, KS
(620) 221-9664
Family Care Center
1305 East 19th Avenue
Winfield, KS
(620) 221-9500
Grene Vision Group
117 E 9th Ave.
Winfield, KS
(620) 221-0740
Hillside Medical Group
1700 East 9th Avenue
Winfield
(620) 221-0110

Brooks Chiropractic Center
1404 Main St,
Winfield, KS
(620) 221-3630
Renshaw Chiropractic
222 East 9th
Winfield, KS
620- 221-2000
Wilson Chiropractic
805 Main Street
Winfield, KS
620-221-4449
Winfield Chiropractic
1913 East 19th Street
Winfield, KS
620-221-1990