News
October 09, 2012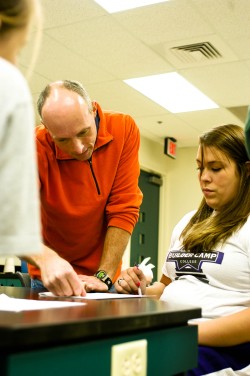 The college is excited about a new commitment we're making this year. Prep 499 is designed for all students, and helps give them direction and assistance as they prepare for life after college. Not a traditional semester class, this is individualized experience and is designed to give students one-on-one time with their faculty advisor.
PREP 499 begins with your freshman student, who participates in a seminar throughout the year. Taught by a variety of faculty and staff members, this seminar class starts the "life search" process off on the right foot. Advisors continue to meet with your student throughout their college years as they look into internships, develop resumes, and discuss a life plan. Finally, seniors take dedicated time to focus seeking a job or pursuing graduate school. PREP 499 helps them prepare for the job market, discuss their career plans, consider ways to gain skills and experience, prepare a résumé and cover letter, or ponder the essential components in an interview.
The ultimate purpose of PREP 499 is to prepare students for a successful career after graduation. As part of this effort, the college provides mock interviews, résumé workshops, and job fairs. I will keep you posted on upcoming "Backpack to Briefcase" events.