News
December 03, 2012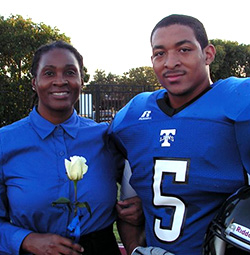 When our son called us to say he had been offered a partial football scholarship, we were happy for him. When he told us it was at Southwestern College, our first reaction was "Where?"
Of course we were skeptical of Paul's choice of colleges. He'd already been accepted to a well-known state school, where we hoped he could continue to play football as a walk-on. Since Paul was a well-rounded student in high school, our other concern was that he could continue to pursue his academic goals while playing football.
After a year and a half, it appears that our fears were unfounded. At Southwestern, Paul has flourished! He is excelling on the field and in the classroom, and has expanded his field of interests. He continues to play cello as he did in high school, while participating in STUFU and the Nine Lives improv troupe.
Despite his accomplishments, Paul was a student still in search of a purpose. SC has given him avenues and communities that have directed him to make the choice to major in Leadership in Ministry. This is extremely pleasing to us (yet not surprising, since we knew he was a born leader).
Thinking back, I believe Paul made the right choice. Had he enrolled at his first choice, he would have been another number in the classroom, a bench-warmer on the football team, and perhaps still in search of direction. Southwestern has given him all these things and more.
With the rising costs of college these days, it has become more critical for parents to make a good choice for their sons and daughters. You want your child to be challenged intellectually while being offered as many options as possible. Who knew that a small college in Kansas could be the best choice? We hope more people find out!
--Sounjalynne and Victor Mata, parents of Paul Mata