News
December 03, 2012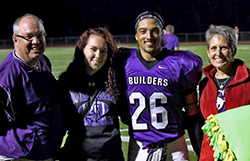 Hi – We are Randy and Rachel Collett. Our daughter Maggie is a junior this year at Southwestern. Maggie picked Southwestern because she was attracted to its small, personal size in a small town. She felt comfortable there and we felt comfortable sending her there.
When she arrived home for Christmas break her freshman year, she wasn't so sure of her decision. Everyone else had a "niche" and she hadn't found hers yet. But we have always told our children that once you make a decision, you follow through on it. So we insisted that she stay until the end of the year. We encouraged her to give it a chance. We felt in our hearts that this was the place for Maggie and it was worth the sacrifices we would make to send her there.
Maggie has since joined the Leadership team where she takes an active role in their activities both on campus and in the community. She has also become an orientation leader for Builder Camp at the beginning of each school year. She feels this is her way to help other incoming freshman see the beauty of a small school such as Southwestern.
She doesn't want anyone to feel like they don't have a friend on campus. Maggie is a student ambassador who gives campus tours to visitors and she works several jobs on campus in the campus life office and the public relations office. She has now found her "niche" and is happy with her decision.
What we notice when we visit Maggie on campus is that she seems to know everyone there! Lots of people (both students and faculty) smile and say hello wherever you go. It is that small, family-type atmosphere that we love about Southwestern.
It may take your student more than a semester to become comfortable with the decision to attend Southwestern. The answer is not to switch schools - that only means starting the whole process over again. So encourage them to find a "niche" on campus and hopefully they will see the beauty of Southwestern like Maggie did!
---Randy and Rachel Collett, parents of Maggie Collett