News
September 26, 2013
Another tall coffee and an early start to a long road trip. It seemed almost "academic" to be visiting other schools. Certainly Daniel realized he was destined to be a Builder. But having the opportunity to spend a couple of days with one of my sons exploring colleges he had selected to visit had its own rewards…even if the best choice was just a short drive south of Wichita. Maybe he needed me to tell him this?

Yeah…right.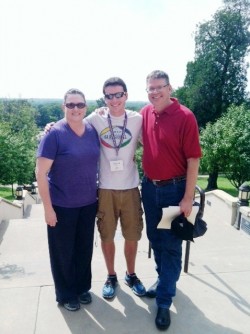 There would be several of these overnight junkets and day trips—Daniel must have visited close to a dozen colleges. He was bound and determined to make an informed decision. And for the majority of his senior year the front runner was a Christian university located nine hours from home that sported a mascot that I could never quite pronounce correctly. Maybe it was time for me to step in and do the right thing: I needed to tell my budding college student exactly where I thought he should land in August 2013. I didn't. I wanted to…but I didn't. The decision was all his.
What a wonderful day when Daniel told us he had made his choice, and that choice was Southwestern. We were anxious to know why. What exactly was it about Southwestern College that set it apart from the others? Well he likes the campus. He likes Winfield. The curriculum and course offerings are exactly what he is looking for…and what a spectacular view from the 77. And the dorms are…well they are the dorms.

But the real reason? What really sealed the deal are the people and the connections Daniel feels here. It is the professors who took as much time as Daniel needed to discuss their programs and classes and never made us feel we were imposing or keeping them from something more important. It is in the joy and enthusiasm that the students shared with us when we visited and toured and asked questions. And most importantly the encouragement and support from Ashlee Alley, Ben Hanne, Larry and Melanie Greenwood, Amanda Baker, Rodney Worsham and so many others who helped Daniel make his informed decision.
Yep….the choice changes everything!
- Kevin & Stephanie Reffner (parents of Daniel Reffner)