Presidential Search
THE TWENTIETH PRESIDENT
Southwestern College invites applications from accomplished, dynamic, and inspiring leaders for the position of president.
The Opportunity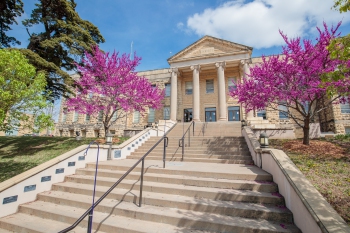 The Board of Trustees at Southwestern College has launched the search for its 20th president. The Search Committee invites nominations of and applications from accomplished, dynamic and inspiring individuals who will provide the college with outstanding leadership. After a highly successful six-year tenure, President Brad Andrews has accepted another college presidency beginning in January 2022. The next Southwestern president will inherit a creative, comprehensive, independent college poised to build on current significant momentum. Southwestern College offers degrees on its main campus in Winfield and through its Professional Studies programs based in Wichita.
Attentive to mission, building on strength, and eager for additional initiatives, Southwestern College seeks a president with vision and energy, who is entrepreneurially inclined and committed to quality. SC's appetite for future growth will call for strategic thinking and planning, designed to sustain change while also unifying the comprehensive nature of its educational programs. Academically focused and committed to quality, the college seeks a president who will build on Southwestern's historic strengths while providing bold leadership and decisive management toward distinctive institutional achievement.
In a marketplace where other small colleges have struggled to find their identities, Southwestern stands apart by offering its students a relational experience in a college that is innovative, valuable, and rooted.
EFL ASSOCIATES, INC.
700 W. 47th Street, Suite 1100
Kansas City, Missouri 64112
eflassociates.cbiz.com