The Classroom
Classroom settings are distinctively different at Southwestern, depending on where one chooses to explore the academic program.
Main Campus
Academic programs at Southwestern are marked by a high degree of collaboration and intentionality. Undergraduate students choose from 30 majors (several with multiple emphasis areas and pre-professional tracks) and 28 minors, and graduate programs include the master of business administration, master of arts in teaching, master of education (four emphasis areas), and doctor of education in educational leadership.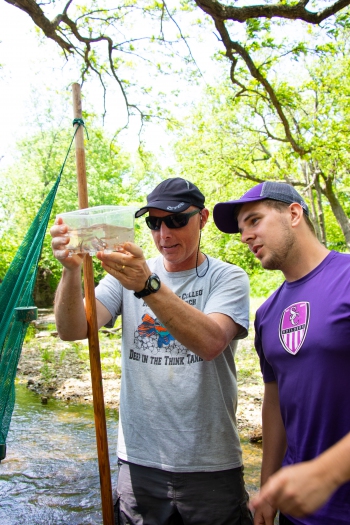 Southwestern expects its students to have jobs as well as degrees when they graduate. To this end, the college has a Center for Career and Vocation as well as a PREP program that focus on career preparation with on-campus students when they are freshmen. The program continues during the next four years as these students choose classes, complete internships, and plan the next steps of their lives in consultation with academic and career advisors. PREP 499, the senior capstone course, synthesizes this exploration and gives a jump start to students' careers.
In 1999, the college expanded its commitment to technology by becoming the first in the region (and one of the first in the nation) to issue laptop computers to all incoming freshmen. This initiative continues today, putting students and their faculty on the same platform and updating both hardware and software every two years.
Professional Studies
Southwestern College Professional Studies offers practical online degree programs focused on an enhanced learner experience, provided by a regionally accredited, 130+ -year-old non-profit institution. Southwestern was one of the first private colleges in the nation to embrace adult students interested in earning a bachelor's or master's degree in a non-traditional format. Established in 1993, Professional Studies began offering on-ground courses in Wichita in 1995 and shortly thereafter added distance /online courses to further provide flexibility and accessibility to busy working adults. PS continues to offer courses that focus on a highly engaging and interactive experience for learners where courses are developed and taught by the college's own faculty and delivered in small class sizes.
Each learner can expect: hands-on counselors to help navigate the program requirements; generous transfer credits to reduce overall cost and time to completion; progressive, nationally recognized programs; accessible student resources to minimize the stress of degree completion; and small class sizes with experienced, practicing faculty to facilitate interaction and ensure academic success.
Market demands inform major offerings, with ongoing analysis of enrollments and interest allowing nimble start-up of such programs as security management, healthcare administration, and Information Systems Management in addition to majors in business, education, human resources and other more traditional fields. Currently, 14 bachelor's degree programs are offered. Master's degrees are offered in four business fields. The Division of Education in Winfield also offers several education programs at both the undergraduate and graduate level through Professional Studies. A number of certificates are also available that can be applied to undergraduate and graduate programs.
In partnership with corporate, military, community and technical college partners, PS provides a smooth transition for students to utilize prior college credit for military experience, corporate training programs, and work experience to complete a bachelor's degree. PS is military friendly and offers discounted military rates for active duty members of the U.S. armed forces utilizing tuition assistance. With eight convenient six-week sessions offered every year, PS learners find the flexible schedule conducive to balancing professional and family demands. Faculty facilitate the sharing of knowledge as an integral part of the educational process.