Builder Camp
Welcome To Builder Camp!
Builder Camp 2021 Highlights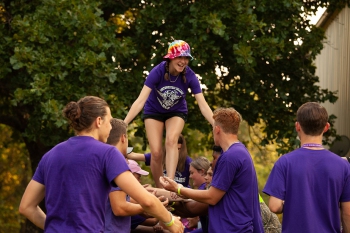 Builder Camp 2021 Photo Gallery
Builder Camp 2021 Video coming soon!
---
Builder Camp 2021
August 4-7
Builder Camp is the place where students learn about Southwestern College traditions, spirit, expectations, and the life of a student.
Each day will consist of indoor interactive activities as well as outdoor team-building activities. The camp will help students adjust to college and meet their classmates.
Builder Camp utilizes peer orientation leaders. Upper-class students apply and are interviewed for these positions. These orientation leaders are divided up amongst the four teams of freshmen and help with social interaction among the new students.
---
Builder Camp 2021 will be held at Sky Ranch Cave Springs in Quapaw, OK!
---
If you have questions about Builder Camp, email Raquel Resendiz, director of campus life, at Raquel.Resendiz@sckans.edu
---