Athletic Training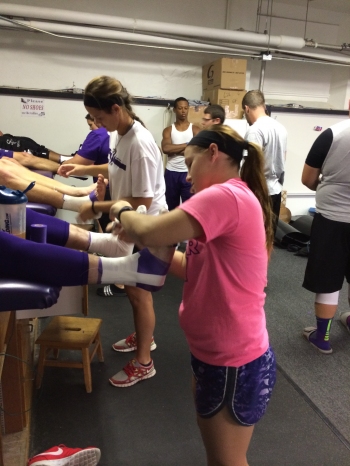 Progressing with the Profession
In 2015, the Strategic Alliance of Athletic Training including the Board of Certification of Athletic Training (BOC), The Commission on Accreditation of Athletic Training Education (CAATE), the National Athletic Trainers' Association (NATA) and the NATA Foundation determined that the professional degree for athletic training be a master's degree. Therefore, athletic training, as a profession, is in transition from being delivered at the bachelor's level to the master's level.
During Spring 2019, Southwestern College determined it would no longer continue to offer a Bachelor of Science in Athletic Training degree beyond its current accreditation cycle in 2021.
The Athletic Training Program (ATP) at Southwestern College is accredited by the Commission on Accreditation of Athletic Training Education (CAATE). The program has been placed on Probation as of February 1, 2019, by the CAATE, 6850 Austin Center Blvd., Suite 100, Austin, TX 78731-3184. The athletic training program has chosen to voluntarily withdraw its CAATE Accreditation effective in May 2021. All students currently admitted into the ATP must complete degree requirements prior to program closure in order to be considered a graduate of an accredited program.
New students interested in pursuing athletic training as a career may pursue a bachelor of science in health science from Southwestern College and then a master's of athletic training in a program of their choosing. Students interested in this exciting new avenue to athletic training certification should contact Lisa Braun, for more information at lisa.braun@sckans.edu.

Interested in Athletic Training?
What is an Athletic Trainer?
Athletic training is recognized as an allied health care profession by the American Medical Association.
A certified athletic trainer (AT) is a highly educated and trained professional who specializes in the prevention, recognition, management, and rehabilitation of athletic injuries. An AT works closely with physicians and other health care professionals in the total health care of the athlete.
Certified athletic trainers are employed in secondary schools, colleges and universities, professional sports, clinics and hospitals, industrial settings, the military, as well as many others settings.
Contact Us
For more information on our program, please contact Lisa Braun, MEd, LAT, ATC; Director of Athletic Training Education; 100 College Street; Winfield, 67156; (620) 229-6226; lisa.braun@sckans.edu
SC Athletic Training Program 2020-2021 Student Policy and Procedure Manual