Degree Program
Mission Statement | Program Objectives | Program Overview
Criteria For Admission | Transfer Students
What is a Certified Athletic Trainer?
A certified athletic trainer (AT) is a highly educated and trained professional who specializes in the prevention, recognition, management, and rehabilitation of athletic injuries. An AT works closely with physicians and other allied healthcare professionals in the total healthcare of the athlete. Certified athletic trainers are employed in secondary schools, colleges and universities, professional sports, sports medicine clinics, industrial settings and several other healthcare environments.
Mission Statement
The mission of the Athletic Training Program at Southwestern College is to develop competent entry level Athletic Trainers through a positive learning environment by providing opportunities to learn and master skills necessary to succeed in the profession of Athletic Training.
Prepare students for success on the Board of Certification Exam.
Increase the retention and graduation rates among students throughout the Athletic Training Program.
Provide high quality instruction in the classroom for students.
Provide diverse clinical opportunities with high quality experience in the clinical setting.
Prepare students for successful transition into the professional phase of their career.
Program Overview
Southwestern College has received formal accreditation by the Commission on Accreditation of Athletic Training Education (CAATE). The undergraduate athletic training education curriculum prepares students to take the Board of Certification (BOC) exam.
The curriculum is structured as a three-year program with an additional application year for freshmen. Students will be involved in the clinical setting during their sophomore (level one), junior (level two), and senior (level three) years while completing academic course requirements. This allows students to learn the skills and techniques necessary in evidence-based practice; prevention and health promotion; clinical examination and diagnosis; acute care of injury and illness; therapeutic interventions; psychosocial strategies and referral; health care administration; and professional development and responsibility.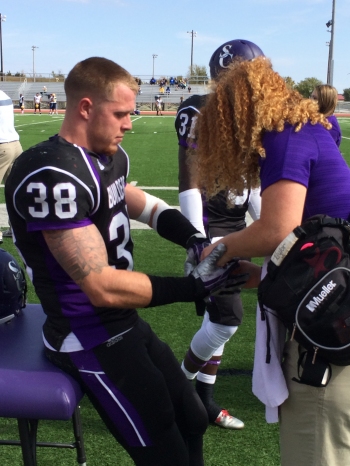 Student clinical assignments will be in traditional, clinical, and high school settings, observing under an assigned clinical instructor. Students will gain experience with collision, contact, and non-contact sports and through a wide variety of clinical settings. Students will observe team physicians and orthopedic surgeons as they evaluate and perform surgical procedures on injured athletes.
Students accepted into the athletic training curriculum are permitted to participate in varsity sports and are welcome to select from numerous available minors, emphases, and a second major if interested. Students are advised that athletic training is a rigorous, time-consuming program and all students admitted to the Athletic Training Program will adhere to the same academic standards.
The athletic training program is an excellent combination for those students interested in post-graduate studies in other allied health professions, such as physical therapy, physician assistant, and medical school.
Southwestern College is a member of the NAIA and participates in the following 15 varsity sports:
Football
Women's Volleyball
Women's Softball
Men's and Women's Basketball
Men's and Women's Soccer
Men's and Women's Indoor and Outdoor Track
Men's and Women's Cross-Country
Men's and Women's Golf
Men's and Women's Tennis
Criteria For Admission
Prospective students must meet all the criteria below to be considered for admission. Completion of the application criteria does not guarantee admission to the program. Admission is competitive and is based on a point system assessed to each student's application. Students can obtain the necessary application forms from the Director of Athletic Training Education.
Completed application with one letter of recommendation
Cumulative GPA of 2.75 on a 4.0 scale
A grade of "C+" or higher in ATEP 230 Introduction to Athletic Training and successful completion of BIOL 111 Biology 1, and PESS 126 First Aid and Safety (or current Emergency Cardiac Care Certification)
Completion of at least 50 documented clinical observation hours
Verification of immunizations
Verification of a tuberculosis (TB) skin test
Submission of signed Technical Standards form
Transfer Students
Transfer students must meet the above mentioned criteria and will only be admitted to Level 1 of the Athletic Training Program (ATP). Transfer students must submit course descriptions or syllabi for each of the prerequisite courses along with a copy of transcripts to the director of athletic training education for review.

Admitted students must immediately declare as an athletic training major. Students who are not admitted may elect to apply again the following year or may declare another major. Admission to the program is very competitive and the number admitted is based on graduation and attrition rates.
For more information email Lisa Braun, Director of Athletic Training Education at lisa.braun@sckans.edu