News
May 09, 2012
An energy efficient "Green Gazebo" has been constructed as part of a senior Leadership project and now sits in the south lawn of Reid Hall on the Southwestern College campus.

Southwestern College senior Jacob McGuire, with the assistance of fellow SC students Stephen Strecker and Mark Strecker, and SC worship outreach director Martin Rude, built the gazebo.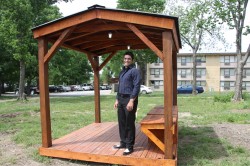 The gazebo started off as a Green Team fundraiser.  McGuire was attempting to build something out of recycled aircraft pallets to sell for the Green Team. This eventually morphed into a gazebo.

According to McGuire, the inspiration for a gazebo that features a solar charging dock came from the "Solar Docks" freshman Leadership survey in 2011.

"The survey asked the student body if there was an interest in outdoor solar powered picnic tables. The student body liked the idea but not the $11,000 price tag," McGuire says.

The gazebo is 8'x8.5' and is made from one aircraft pallet. The roofing material is Ondura which is 50% post-consumer recycled material. The gazebo also features a 45-watt solar panel that powers two LED lights and, according to McGuire, will charge a computer, play a boom box, and run a number of other things.

The financial donation to the project was $1,000 made by McGuire, which was the approximate cost of the solar powered system.  The gazebo was placed on the south side of Reid next to the sand volleyball court April 23, however, the final installation site for it has yet to be determined.