News
April 25, 2013
First year Leadership Southwestern students are leading an effort to get Southwestern College connected with downtown Winfield.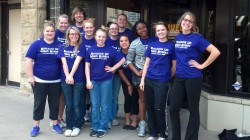 On Saturday, April 20, the first year Leadership students spent several hours providing services to multiple locally owned organizations such as Neives,' Graves Drug, Eagles Nest, Posh, S & Y Industries, Bradbury Kitchen, and Hometown True Value.  In return, many local businesses are providing discounts to Southwestern College students.

"Since small town locally owned stores thrive on local customers, our students will be providing one of the greatest services that these businesses could ask for, customers," says Southwestern College freshman and Leadership Southwestern student Michael Becker.