News
April 26, 2013
Area high school students from Winfield, Arkansas City, Udall, and Central (Burden) who began a program of study in leadership and service as a part of the Kids Impact Cowley County (KICC) program have awarded grants worth $500 to their schools.

The Winfield student council had the winning application from Winfield High School and will construct a leadership wall of fame in their school.

National Honor Society (NHS) won the grant at Arkansas City High School.  They plan to use the money for a reading program that NHS does with the elementary school kids. The money is intended to be spent on books and transportation.

The Udall students decided that most of the money will be used to send two students (from the sophomore class) to the Hugh O'Brien Youth Leadership Conference at the University of Kansas for four days. Upon return from the conference, the two students will create multiple service projects that in total will require 100 hours of total community service. These projects will be created in cooperation with the leadership class.

Central (Burden) will use its award toward planting grasses, bushes, and flowers at their high school baseball fields. They have partnered with local greeneries and community members to get the supplies needed. This project will take place in early May.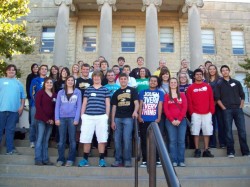 Students began the process back in November.  Understanding grant-making is the centerpiece of the KICC program. The students work to create and refine a Request for Proposals (RFP) under the supervision of the Leadership program at Southwestern College, then each group accepted applications from other organizations in their school.
KICC is funded through an endowment held with Legacy Regional Community Foundation. Legacy Regional Community Foundation creates a stronger future for our area by building endowments, providing informed leadership, and connecting donors to the critical needs of the region.

Michael Bond is the director for KICC this year and he has been impressed with the dedication of the high school students.

"Their passion to help their community is exciting," Bond says.  "They have done a lot of work and it's hard work at times but they have had a positive attitude throughout the year and it has been such a great joy to be able to work with people who want to make an impact in their school and their community."

According to Lindsay Wilke, assistant director for Leadership Southwestern, the goal of the KICC program is two-fold: give young people the skills to become better leaders and provide them with a community arena to put their skills into practice right now.

Students who are a part of KICC and participated are: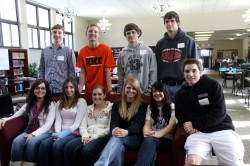 • Winfield High School—Megan Lance, Alessandra Bevilacqua, and Avery Osen;
• Arkansas City High School—Madison McDowell, Jesus Del Angel, Manny Green, Jesus
Rodriguez, and Marissa Leake;
• Udall High School—Kelsie Hoffman, Darby Aldrich, Abby Hoffman, Zach Kratochvil, Heath Sattarlee, and Michael Propst;
• Central (Burden) High School—Zach Koppelmann, Travis Wham, Shelby Bannister, Greg Hilario, John Taylor, Grant Loewer, Rylee Liebau, Josh Koppelmann, Lucas McMichael, Michael Delaney, Jordyn Foley, Jeremiah Klick, Saydi Loewer, Cooper Dennett, and Bailee Ellis.

In addition to awarding the grants, all of the students in KICC visited the 2012 Winfield Habitat House and did service at Twin Rivers Developmental Supports to plant raised flower beds and gardens for their residents. 

"We work from a definition that philanthropy is 'voluntary action for the public good,'" Wilke says. "Students learn that philanthropy is about giving both money and service to others.  To do this effectively, one has to become aware of what exists in the community.  What are the needs and assets?  This knowledge then informs the grant-making cycle."

For more information about Legacy Regional Community Foundation, call (620) 221-7224 or (620) 442-1322 or visit www.legacyregionalfoundation.org/.