News
May 09, 2013
The Southwestern College Philanthropy Board (SCPB) recently awarded a grant to a non-profit organization in Cowley County.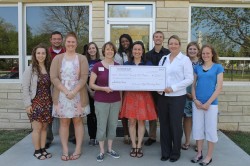 Students in the SCPB awarded a grant of $2,500 to Mid-KS Community Action Program (Mid-KS CAP).  Mid-KS CAP is going to partner with the K-State Research and Extension Cowley County to provide a nutritional program to income-sensitive families in Cowley County.  The program is intended to reach approximately 126 families.  The program will provide participants with education but also with food that they will practice preparing in the classes and can then take home to their families.  In a recent pilot session, participants received a slow cooker and a cook book, and prepared two freezer-ready healthy slow cooker meals to take home.  Benefits of the classes include:

• Healthy meal and cost effective meal ideas;
• Experience in meal planning;
• Increased kitchen skills;
• Familiarity of nutritious foods and values;
• Building community support and networks.

According to Lindsay Wilke, assistant director for Leadership Southwestern, the SCPB aimed to grant funding this year to a program that would improve the wellness of individuals in Cowley County, a central element of the county-wide strategic plan, Vision 2020.  The students indicated a broad definition of wellness that included spiritual, emotional, physical, and mental components.  A total of 11 grant applications were received from non-profits throughout the county for a myriad of programs and projects.

"The depth and breadth of the applications the SCPB received highlights the good work that is taking place throughout the county and is a testament to the strength of the SCPB grant application," Wilke says.  "The students worked hard to develop an application that would allow their funding to be put to good use, and they succeeded.  The collaborative partnership between Mid-KS CAP and K-State Research and Extension Cowley County is an exciting one that promises to strengthen the health of Cowley residents through a unique nutrition program.  It is rare that students get to sit in the seat of the funders, and in doing so, they learned valuable lessons about stewardship. I am proud of their work."

Southwestern College students that participated were Jessie Riggs, Hannah Podschun, Mariam Mamah, Michael Bond, Katy Hamilton, Sally McGuire, Lauren Strain, and Sydnee Nelson.

If anyone would like to donate to the work of the SCPB or learn more about the student group, email scpb@sckans.edu or visit the web site at www.sckans.edu/makeagift/contribution/category/102/.