News
November 09, 2016
Bailey Pfingsten and Raquel Resendiz, second-year Leadership Southwestern students, invited fifth graders from Country View Elementary to SC to learn about Leadership.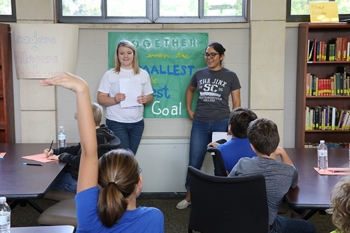 "We chose Country View because of their class size and we were familiar with the students," says Resendiz.  "Our goal was to give them a foundation of leadership for future development."

One of the activities students completed required that they close their eyes, picturing what a leader would look like, and then draw that vision on paper. The exercise culminates in the students talking through the shared characteristics of leaders it also helps them acknowledge that leaders are diverse. 

"A leader uses his or her strengths to build people up," Resendiz stated.  

Brae Wood, director of Leadership Southwestern, says that this project is part of the second year team experience of facilitating and planning a leadership development project. 

"Bailey and Raquel are concentrating on elementary leadership development in their leadership growth this year," Wood says. 

Pfingsten and Resendiz plan on visiting Country View to follow up and talk more about leadership qualities with the fifth graders.