News
April 24, 2017
Southwestern College senior Dillon Good invites the community to attend a ribbon cutting event in the Timber Creek Nature Center, which is just east of Island Park in Winfield. The ribbon cutting will be at 4 p.m. Wednesday, April 26.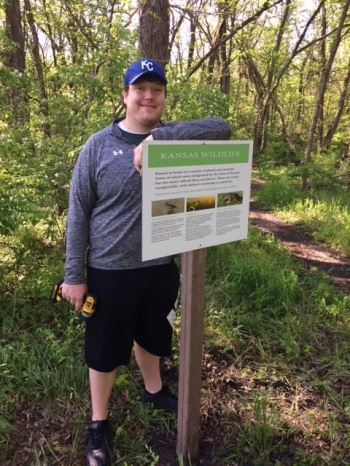 Leading Through Nature is the title of Good's senior leadership project. He says it focused on restoring and renovating the local nature trails in the Timber Creek Nature Center.
"This was a two-part project: first cleaning and restoring the existing trails to an enjoyable state, then installing educational, interpretive signs along the restored trails," Good says. "My hope is that this project will encourage visitors to enjoy what nature has to offer and educate them about the local flora and fauna."
Good sought outside help with this project. He chose Mark Olney, director of parks and public for the city of Winfield and Richard Cowlishaw, biology professor at Southwestern College.
"I chose Mr. Olney because he has a strong personality and loves his community," Good said. "He gave me insight into how to implement this project on city property and make it sustainable. Dr. Cowlishaw loves the outdoors and is an avid hiker and nature explore. He added the educational side of my project by assisting me in providing proper information for the interpretive signs that were installed along the trail. His knowledge in nature and his biology education was critical to providing the proper identification and information."
"I'm also grateful for Jim Banks," Good says. "He is a SC leadership alumnus and he generously awarded me funding for this project."