Broadway Builders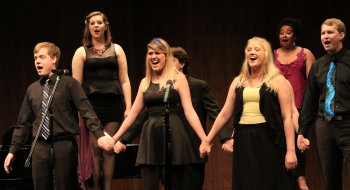 Broadway Builders (MUS 151N A & B) offers students the opportunity to study and perform repertoire related to musical theatre in an advanced ensemble setting. Members of this ensemble demonstrate a superior knowledge of vocal technique and the musicianship skills required for the focused study and performance of this music. This ensemble concentrates on the refinement of established vocal technique and acting ability, and performs both on and off campus. Open to BFA in Musical Theatre majors and BA in Theatre majors with a musical theatre emphasis by audition, students can take Broadway Builders for 0 or 1 credit hour.
Rehearsal schedule: Mondays and Wednesdays from 4:10–5:00 p.m. in Darbeth Rehearsal Hall.
Prerequisite: MUS 151M A or B.