Musical Theatre Ensemble (MTENS)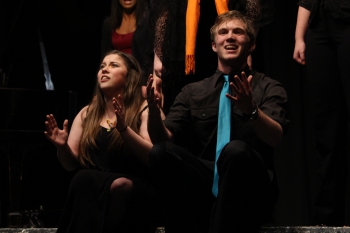 Southwestern College's Musical Theatre Ensemble (151M A & B) offers students the opportunity to study and perform repertoire related to musical theatre in an ensemble setting. Members of this ensemble focus on the cultivation of a proficient knowledge of vocal technique and the musicianship skills required for the focused study and performance of this music. This ensemble also concentrates on the development of a student's acting abilities and performs both on and off campus. Open to all students at Southwestern, participants can take Musical Theatre Ensemble for 0 or 1 credit hour.
Rehearsal schedule: Mondays and Wednesdays from 4:10–5:00 p.m. in Darbeth Rehearsal Hall.