News
October 06, 2011
Noted composer Henry Mollicone will spend Oct. 10-14 on the Southwestern College campus highlighted by a concert production and recital as a Woodrow Wilson Visiting Fellow at Southwestern College.  Many of the events are open to the public without charge.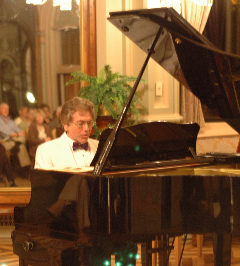 Mollicone will perform and speak about "Music and Social Justice." This event will take place on Tuesday, Oct. 11, at 11 a.m. in Messenger Recital Hall on the Southwestern College campus.  He will present the history of how music has been used to bring awareness to social justice issues, such as homelessness, immigration, and the civil rights movement.

Other events include:

• Masterclass for music composition students Monday, Oct. 10, 4:30-6 p.m. in Darbeth room 207,

• Meet the composer for orchestra and band students, Wednesday, Oct. 12, at 3:10 p.m. in the Darbeth rehearsal hall,

• Music seminar, Friday, Oct. 14, at 11 a.m., in the Darbeth rehearsal hall,

• Composers' forum, Friday, Oct. 14, at 4:30 p.m., in Darbeth room 207.
There is no admission charge to any of the events and the public is invited to attend any of the sessions and the one-act opera and recital.

On Wednesday, Oct. 12, Mollicone's "Face on the Barroom Floor" will be performed at 7:30 p.m. in the Richardson Performing Arts Center along with a short recital of music by Mollicone.  The students involved in the opera performance are Jasmine Jackson, senior music education major; Jeremiah Roberts, senior music major, and Matt Berthot, master of arts in music student.  Also singing one song each with Mollicone are Carol Gardner, senior business major with a minor in music, and sophomore Dylan Moore, who is pursuing a double major in music education and music performance. Other performers include Rebecca Tast, cello, Arkansas City High School strings director and Erin Sundquist, flute, professor of flute at Southwestern.  The production has been organized by Southwestern College director of choirs David Gardner. 

A graduate of the New England Conservatory,  Mollicone has studied composition with Donald Martino, Ron Nelson, Daniel Pinkham, Gunther Schuller, and Seymour Schifrin. He is currently a professor at Notre Dame de Namur University in Belmont, Calif., and at West Valley College in Saratoga, Calif.

His one-act operas—"Emperor Norton," "Starbird," "The Face on the Barroom Floor," and "The Mask of Evil"— have been performed extensively. "The Face on the Barroom Floor," a recipient of the American Composers' Recording Award, is one of America's most often-performed contemporary operas, and has also been produced in Europe.

Mollicone has been a Woodrow Wilson Visiting Fellow since 1997, and has served on panels for The National Endowment for the Arts. He is associate director of the Ernest Bloch Music Festival in Oregon, and director of its composers' symposium. His opera "Gabriel's Daughter" (libretto by William Luce) was premiered in July 2003 at the Central City Opera.

Mollicone has written works for orchestra, voice, chorus, ballet, and solo voice, as well as music for film, television, and theater, including the Guthrie Theater (Minneapolis). He has worked with several distinguished actors as a conductor, composer, and pianist, including Jean Stapleton, David Ogden Stiers, Tovah Feldshuh, Charles Nelson Reilly, and Angela Lansbury. His works have been performed by distinguished artists, including JoAnn Falletta, Frederica Von Stade, Amy Burton, Music from Copland House Players, Erie Mills, Maria Spacagna, D'Anna Fortunato, and Marnie Breckenridge.

The visit by Mollicone is underwritten by the Woodrow Wilson National Fellowship Foundation, a group that engages leaders from a range of professions to spend weeklong residencies at small liberal arts colleges, helping connect their work to the world. Now more than 35 years old, the program recently came under the administration of the Council of Independent Colleges.