News
November 14, 2012
Christopher Schmitz,  associate professor of music at Southwestern College, was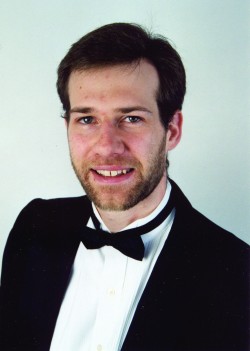 awarded the 2012 Runner-Up award in the College/Pro composer category in the third annual Ithaca College Jazz Composition Competition.

The piece that Schmitz composed, "Susurrus," will be performed by the Ithaca College jazz ensemble with guest trumpet artist Terell Stafford as soloist on Friday, Dec. 7, in Ford Hall at the Ithaca College School of Music in Ithaca, N.Y.

"I wrote this piece with Terell (Stafford) in mind," Schmitz says.  "I tried to write something that he would have fun playing.  It is always incredible to hear your music come to life, especially when it is performed by one of his caliber."

Stafford currently holds the positions of director of jazz studies and chair of instrumental studies at Temple University in Philadelphia where he has been a recipient of the university's "Creative Achievement Award." He is also a clinician for the Vail Foundation in Colorado and Jazz at Lincoln Center's "Essentially Ellington" program. Formerly, Stafford served as a member of the faculty for the Juilliard Institute for Jazz Studies in New York. Dedicated to building the jazz arts community through education, Stafford currently sits on the board of the Jazz Education Network.

According to a press release from the Ithaca College School of Music, a "huge" number of quality entries were submitted from all over the world.  Pieces were judged completely anonymously; the judges had no knowledge of the identity of the writers.

"It just goes to show that Chris (Schmitz) continues to put new pieces out there and others find that they are worthwhile," says Tim Shook, division of performing arts chair at Southwestern College.

"Improvisation plays a prominent role in jazz," Schmitz says.  "In this piece, the role of improvisation is expanded into a dialogue between the trumpet soloist and the jazz band.  I am excited to hear Terell's interpretation."

Alex Lee-Clark of Jamaica Plain, Mass., was the winner of the College/Pro composer category.  The other runner-up winner was Vladimir Nikolov of Skopje, Republic of Macedonia.

The concert on Dec.7 will begin at 7:15 p.m., and will be streamed online at www.ithaca.edu/music/live/.