News
February 28, 2018
The South Kansas Symphony (SKS) will hold its annual Chamber Gala on Sunday, March 11, at 3 p.m., at The Barns at Timber Creek.
The event is sponsored by Jane Duncan and Craig and Diana Duncan.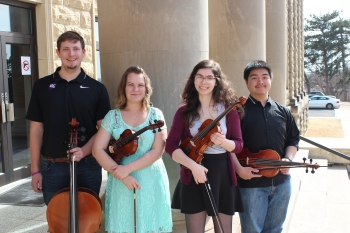 According to Amber Peterson, SKS conductor, the Chamber Gala is an important fundraiser for the community/college orchestra.
"Come enjoy an afternoon of chamber music, performed by symphony musicians, as well as hors d'oeuvres, wine, and a silent auction," Peterson says.  "We are grateful for the venue donation of The Barns at Timber Creek."
The following businesses have donated items or services for the silent auction: Wheat State Winery, Gottlob Lawn and Landscaping, Rubbermaid, Quail Ridge Golf Course, Shindig's Bar and Grill, Buchanan Enterprises, Madeline Norland Massage/Reflexology, Alecia Hendricks Massage Therapy, Southwestern College, and College Hill Coffee.
Tickets for the event are $40 per person ($25 of which is tax deductible). Reservations are required and limited seating is available. For more information or to reserve a seat, contact Ashton Humbert at Southwestern College at (620) 229-6272.