News
August 20, 2018
The Kansas Independent College Foundation (KICF) and its 19 member institutions have announced the 2018 Maud Wyatt Memorial Scholarship recipients. Aidan Wells Filbert, a music performance major from Wichita, is the recipient from Southwestern College.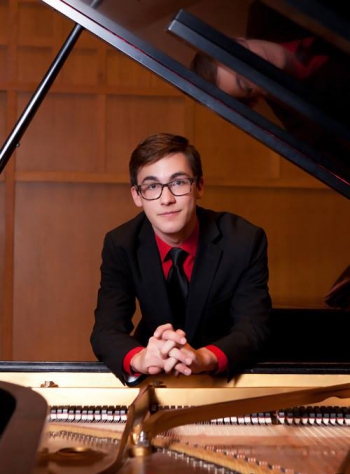 The scholarship was established in 1995, thanks to the generosity of Maud Wyatt's bequest made in 1961 to support the work of KICF. The scholarship recognizes students who exhibit that same commitment to the value of a private college education in Kansas.
"Aidan sees the freedom he has in a liberal arts education and takes full advantage of the opportunities that freedom provides," says Tim Shook, division chair for performing arts at Southwestern College.  "He views it as a means for developing his talent into a world class musician and person of character."
For the first time this year, the foundation is awarding 19 individual scholarships to students at each Foundation member institution. Recipients are all full-time, degree-seeking students on the cusp of graduation, and each has demonstrated excellence in academics, character, and leadership. These students maintain GPAs of 3.5 or above while being active on their campus and contributing to their respective communities.
"Aidan doesn't just get good grades," Shook continues. "As a piano performance major and talented musician, he loads himself with academic work and takes that work beyond simple assignment completion.  I see as his advisor that he delves into subjects deeply to find new information to learn, working across disciplines to enhance his work by bringing in other influences."
Shook described Wells Filbert as curious, an explorer in an environment of adult professionals who encourage him to stretch as far as he is willing.  During the coming year, for example, he plans to take advantage of opportunities offered at Southwestern College to dig further into music composition or conducting. 
Wells Filbert is president of ToneBuilders (an SC organization for ensemble participants), and regularly serves as music director or assistant music director of Southwestern's theatre performances. 
Located in Topeka, the Kansas Independent College Foundation is a nonprofit organization that develops and enhances the competitive standing of its 19-member independent, non-profit, regionally accredited, degree-granting colleges and universities and strives to assure opportunity and choice in higher education for all students. For more information on the Foundation, please contact Jesyca Hope at 785-235-9877 or jesyca@kscolleges.org.