News
October 07, 2019
The Community Music School at Southwestern College recently hosted 65 young vocalists in grades three through five from Cowley County for the Third Annual Elementary Honor Choir Day. Children attending spent the day learning new vocal techniques and choral pieces, which were performed in concert to a full house in Richardson Performing Arts Center.
P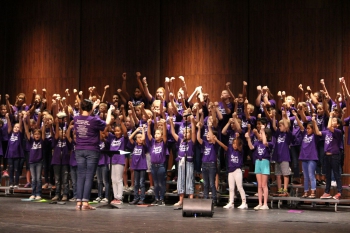 articipants in the Elementary Honor Choir Day were chosen by their local school music teachers to represent each school. Music teachers each chose six students. Schools represented from USD 470 were Jefferson, C4, Roosevelt, France Williard, Adams, and IXL. Schools represented from USD 465 were Country View, Whittier, Lowell, and Irving. Students from Central Burden USD 462 also attended. The choir was directed by Nikki Kirk of USD 470 and accompanied by Marsha Granberry.
The Elementary Honor Choir Day was made possible by a generous grant from Legacy Foundation of Winfield.
The CMS at Southwestern College offers a wide range of private lessons and ensembles for all ages. Private lessons are ongoing and the CMS has openings for all instruments and voice with a wide range of lesson times available.
JourneyKids Choir is a choral ensemble for children in grades three through eight that offers performance opportunities throughout the school year. The choir meets every Tuesday at 5:30 p.m., in Darbeth Fine Arts Center, room 207. Enrollment is always open to new participants.
For more information about any classes or ensembles that the CMS offers, email director Michelle Zakharov at cms@sckans.edu or visit the CMS website at https://www.sckans.edu/other/community-music-school/about/