News
October 05, 2021
The performing arts division at Southwestern College will recognize one student each month as its Student Artist of the Month. The September selection is Katie Miller.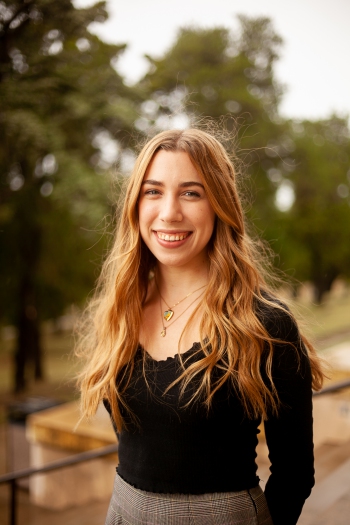 "The Student Artist of the Month is an award given by the performing arts division faculty, which recognizes a student's positive attitude, work ethic, quality of work, dependability, and their effective work with others," says Jeremy Kirk, chair of the performing arts division.
Miller is a junior from Arlington and is the daughter of Suzanne and Delmar Miller. She is majoring in piano performance with a minor in theatre. She is a Pillars Scholar and felt right at home at Southwestern on her first visit.
"I came to Southwestern for a music camp; there was just something about the campus that made me feel at home," Miller says. "I then got to work with the music instructors. Working with them was very influential."
Miller stays busy at SC as she has been in most theatre productions including "Fun Home" and "Bright Star" last year. She performs with the orchestra and choir and plays piano for the weekly chapel service and for the Worship Outreach team. Her next theatre performance will be in November when the theatre department presents "Mac Beth."
"A quintessential liberal arts student, Katie Miller, has an attitude for learning," says piano professor Tim Shook. "Katie delves deeply into any subject matter she studies. Faculty members trust her excellence in musicianship, studies, and activities campus-wide. Her hallmark characteristic—collaboration—supports fellow students, the faculty members, and the entire performing arts division. The distinction of the Student Artist of the Month aptly describes her contribution to Southwestern College."
Miller hopes to attend graduate school after Southwestern, in particular, the Royal Academy of Music in London. Her future plans are to teach music at a small college.