News
October 14, 2021
Southwestern College's music department will present, for this year's Kaleidoscope Concert, Henry Purcell's three-act opera "Dido and Aeneas" on Friday, Oct. 29, at 7:30 p.m. at the Richardson Performing Arts Center. The fully-staged opera will be performed in English with supertitles and is a collaboration between A Cappella Choir, SC Singers, and South Kansas Symphony. There is no admission charge and the public is invited to attend. The concert, which should be around one hour in length, will also be livestreamed on the college's performing arts Facebook page.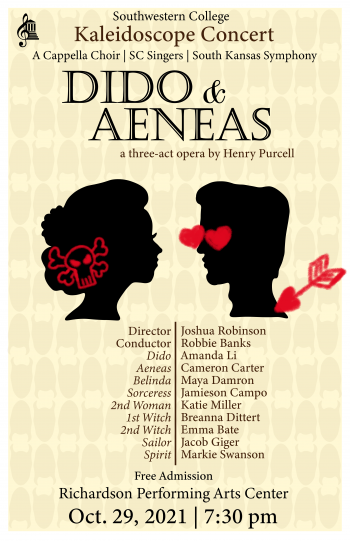 Purcell's "Dido and Aeneas," based on Virgil's "Aeneid," tells the ill-fated story of the Queen of Carthage and the Trojan Prince. Love blossoms between the two as Dido welcomes the shipwrecked hero on shore. The royal couple embarks on a hunting trip to celebrate their union but is interrupted by a heavy storm conjured by the Sorceress and the Witches, who conspire for Dido's downfall. As the couple returns, a spirit disguised as Mercury lures the duty-bound Aeneas to sail to Italy. To the witches' delight, the prince set sail to build Rome, leaving the grief-stricken queen to proclaim that now Aeneas is gone, she must die.
"The SC music department is proud to present one of the most beloved operas of all time for the 2021 Homecoming Kaleidoscope program," says Jeremy Kirk, division chair for performing arts. "The collaborative efforts among faculty, students, alumni, and community members have been truly inspiring."
Amanda Li, music director for the opera and will play the role of Dido, says that the challenge of performing a full opera is challenging and exciting.
"Following our successful choral 'OPERAtion' in the spring semester, we decided to take up the challenge to perform a full opera for this year's Kaleidoscope Concert," Li says. "The sublime music in 'Dido and Aeneas' provides an excellent vehicle for this heartbreaking tragedy, while the vocal demands and scale of the opera is uniquely suited to our membership with SC Singers playing the major roles and A Cappella Choir as the opera chorus. In any case, what better time than the Halloween weekend to see a coven of witches casting their spells on stage."
Director Joshua Robinson has been impressed with how the students have tackled the challenge of performing this opera.
"The ensemble plays an integral part in the piece and it has been so rewarding to witness many of our students rising to the challenge in their first encounter with opera," Robinson says. "I am very excited to present this collaboration to the Winfield community."
Southwestern College senior Maya Damron plays the role of Belinda as well as being the costume designer.
"I am super excited for this show," Damron says. "Not only is it my first opera to perform in, it's also my first to design for. My design, inspired by the aesthetics of dark academia, dresses the ensemble in posh attire that masks their destructive ploy and Dido in a beautiful gown with a crisp and goddess-like fit, designed and handmade by Jamieson Campo (plays the role of Sorceress)."