News
February 28, 2022
The performing arts division at Southwestern College will recognize one student each month as its Student Artist of the Month. The February selection is Emma Bate.
"The Student Artist of the Month is an award given by the performing arts division faculty, which recognizes a student's positive attitude, work ethic, quality of work, dependability, and their effective work with others," says Jeremy Kirk, chair of the performing arts division.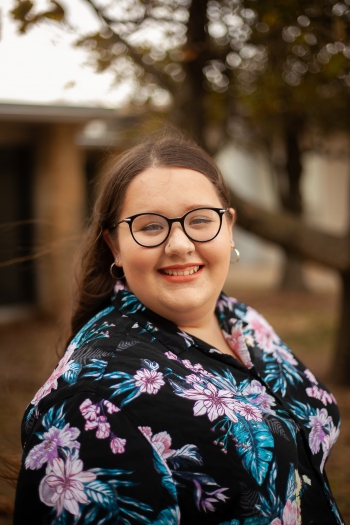 Bate is a senior from Winfield and is the daughter of Seth and Jenny Muret-Bate. She is majoring in math education. Bate plans on teaching in Kansas following graduation. Currently, she is student teaching at Oxford Jr./Sr. High School.
During her time at Southwestern, Bate has been involved with A Cappella Choir, SC Singers, Campus Players, EdBuilders, and Pi Gamma Mu.
"Some of my favorite college memories include stage managing 'Mac Beth' last fall and singing a featured part in the opera that A Cappella put on for Homecoming this year," Bate says.
Amanda Li, assistant professor of voice and director of choral activities and voice at Southwestern College, says Bate has shown her versatility this year balancing her student teaching along with her singing.
"Emma is an avid chorister and has been an exemplary member of both A Cappella Choir and SC Singers," Li says. "With her rich and silky tone, she sang as one of the three Spirits ('The Magic Flute') in our opera scenes concert last Spring and played the role of Second Witch in our Fall production of 'Dido and Aeneas.' Though Emma is in her student teaching semester, she continues to contribute to our vocal program by being part of SC Singers – both her passion and skills for choral singing have been a tremendously positive force for us all."
Allyson Moon, director of theatre at Southwestern College, says that Bate has made herself and others better while at Southwestern.
"Emma is an excellent example of a student who understands the value of being liberally educated and has taken full advantage of the opportunities this educational approach offers," Moon says. "As an individual who is talented on many fronts, Emma has included A Cappella Choir and Campus Players as parts of her regular endeavors. The students and teachers in both the class and the organization have benefitted from her ongoing commitment to and leadership in performing arts."
Bate is grateful for the professors at Southwestern College.
"I want to take this opportunity to thank Ed Loeb, Joshua Robinson, Amanda Li, J.K. Campbell, Bob Gallup, and all my other wonderful professors here at SC," Bate says. "Thanks to them, I've grown as a mathematician, teacher, and artist, and I now have the self-confidence to believe in my own skills. All of them were what made my experience at SC so great."