Southwestern Youth Chamber Players
The Southwestern Youth Chamber Players (formerly the Southwestern College Youth Symphony) is a unique program that serves dual purposes: (a) It develops chamber music skills in students, fostering independence, confidence, and musicality; and (b) it provides a lab experience for Southwestern students in which teaching and secondary instrument skills can be practiced.
Membership is open to middle and high school instrumentalists.
---
SYCP 2020-2021 Season Postponed
The Southwestern Youth Chamber Players will, unfortunately, be postponing its 2020-2021 season until at least January due to COVID-19. Watch for announcements about when rehearsals and performances will resume. Stay well!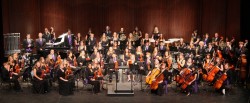 The season schedule and ticket information are available at www.southkansassymphony.com.