World Music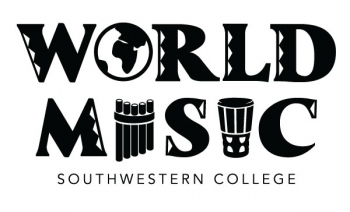 The World Music program at Southwestern offers students authentic experiences in both performance and classroom settings. Students strengthen their global citizenship through learning about and experiencing other cultures through music.
---
World Music Group
The World Music Group at Southwestern College learns, explores, and shares music and dance of Polynesia, West Africa, and the Caribbean. From hula to Ewe drumming, ukulele to steel pans, a unique global perspective is developed and shared. Membership is open to any SC student, faculty, or staff member that is interested in learning about people through music and strengthening their global citizenship.
The World Music Group is available for school and community performances and presentations. For more information about booking, please contact Jeremy Kirk at jeremy.kirk@sckans.edu.
---
Introduction to World Music (course)
IART 156 – Introduction to World Music – is one of the most popular course offerings at SC. Students develop a strong global perspective and grow their cultural awareness through study of global music. Music and traditions from Polynesia, Native America, United States, Sub-Saharan Africa, India, Australia, and Japan are included. Credit: 3 hours.