Auditions
Musical Theatre Audition Requirements:
Two contrasting, 16-32 bar cuts from musical theatre repertoire; one ballad and one up-tempo. One selection must be written prior to 1970 and the other contemporary. One selection should feature a classical "thin folds/head voice" vocal quality, and one should feature a contrasting vocal quality such as belt quality.
Recommended standard literature

All volumes of The Singer's Musical Theatre Anthology Soprano (Publisher: Hal Leonard)
The Singer's Musical Theatre Anthology Mezzo-Soprano
The Singer's Musical Theatre Anthology Tenor
The Singer's Musical Theatre Anthology Baritone/Bass
Any and all Vocal Selections books
www.musicnotes.com to find a key that works for you
www.newmusicaltheatre.com for new contemporary songs
A prepared monologue of any time period or style that is approximately 90 seconds in length
---
Scholarship Audition Days 2017-2018
October 21, 2017
February 3, 2018
February 10, 2018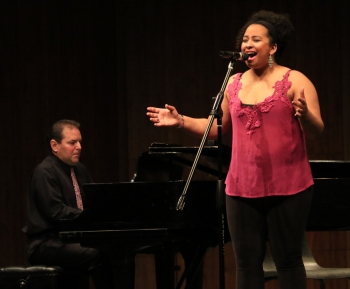 The Performing Arts Division invitation extends to any current High School senior or community college student in their final semester who is interested in majoring or minoring in music, theatre or musical theatre, or who wishes to participate in the division activities.
Those auditioning will have a chance to see and experience the fine visual and acoustic qualities of Southwestern College's Richardson Performing Arts Center. They will meet and work with dynamic performing arts faculty members, who have presented at numerous national conferences and provided expertise to the region's arts educators. Our faculty is dedicated to nurturing intellectual development, aesthetic sensibility, and creativity through stimulating classroom and performance experiences while preparing students as professionals and advocates who cultivate the arts.
Sign up today!
Scholarship Audition Day Application
Audition Day Schedule
Auditions for Music majors and Theatre majors/participants will begin at 1:00pm, students will sign-in and be assigned an audition time.
Auditions for BFA Musical Theatre majors and non-music major participants will begin at 2:45pm, students will sign-in and be assigned an audition time. There will be a dance audition for BFA majors after the BFA auditions are complete.