News
November 08, 2021
The performing arts division at Southwestern College will recognize one student each month as its Student Artist of the Month. The October selection is Maya Damron.
"The Student Artist of the Month is an award given by the performing arts division faculty, which recognizes a student's positive attitude, work ethic, quality of work, dependability, and their effective work with others," says Jeremy Kirk, chair of the performing arts division.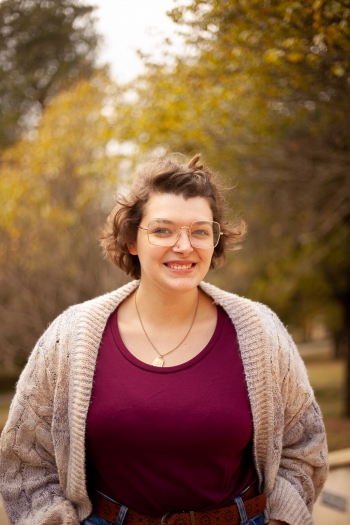 Damron is a senior from Albuquerque, N.M. and is the daughter of Maria Grundy and Kelly Regrouby. She is a music theatre major at Southwestern.
Damron knew she wanted to pursue musical theatre even though she hadn't had any training before coming to SC.
"One of my mom's friends came Southwestern and knew Allyson (Moon) and recommended the theatre program and I really wanted to do musical theatre," Damron says. "I never had music lessons as a child. When I did a tour, I kind of fell in love with the place.
Damron says she was searching for a smaller campus that provided a lot of one-on-one communication and that is what she found. Her biggest joy has been working with Amanda Li, director of choral activities and voice, and Josh Robinson, assistant professor of musical theatre.
"Dr Li and Dr. Josh have been such an inspiration," Damron says. "Josh has made me a better actor and Dr. Li has made me a better vocalist. She is one of the most talented persons I have ever met. She started telling me about opera and I was like, 'wow I get to learn from her.' Josh the same way, his energy and his ideas are incredible."
Along with acting and singing, Damron has been the costume designer for most of the productions at SC. She says that the shows that were the most fun to costume design were "Clue" and "Into the Woods."
"For 'Into the Woods' I hand sewed the Cinderella wedding dress and that was so fun to do as a freshman. To get that opportunity was so cool."
Li has been impressed with the progress that Damron has made.
"Maya has made tremendous progress since she started taking voice lessons with me two years ago, which is evident in her remarkable performance in 'Fun Home' last year and, more recently, her music offering during this year's convocation, as well as her appearance as Belinda in our production of 'Dido and Aeneas,'" Li says. "Maya has proven herself to be a reliable individual who always does her best in every task she commits to take on. She sets a great example for all of us with the kindness and respect she shows to her fellow students and teachers."
Damron, who is also the Campus Players President, will be performing and costume designing for the upcoming production of "Mac Beth" Nov. 12-14.
Damron hopes to work in the musical theatre field after graduation and ideally will do so in Colorado or Boston. She was elated to find out she had been selected as the Performing Arts Student of the Month.
"I was so excited and shocked," Damron says. "I am grateful for it and everything that my professors allow me to do. I vowed I would explore everything I could and I have and it has paid off."