9 LIVES Improv Troupe
9 LIVES Laughatorium and Good Times Improvisational Comedy Troupe is SC's premier improv acting troupe.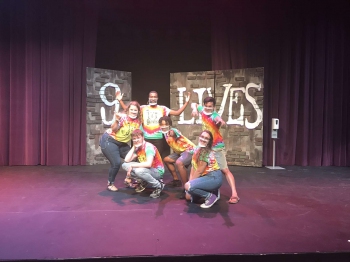 The troupe performs several shows throughout the year - for families, students, and summer audiences. Workshops available too. For more information about the troupe, contact Allyson Moon at allyson.moon@sckans.edu or 620.229.6328.
(Photo: 9 LIVES Gets Tested Campus Show, October 9, 2020)
---
Founded in 2001, the group consists of five to nine SC students who specialize in short and long-form improv and sketch comedy.
Video: Rap Battle
9 LIVES Sleepover Campus Show, December 6, 2019
---
---
Current Members
Sam Beck: Senior, Business Administration Major, Salina, KS
Eric Farbes: Sophomore, Physical Performance and Sports Studies, Wagoner, OK
Sheldon Hawthorne: Graduated, Assistant Tennis Coach, Beaumont, TX
Emily Robinson: Junior, Musical Theatre Major and Religion/Phil. Major, Andover, KS
Lizzy Santana: Junior, Theatre Performance Major, Wellington, KS
---
Past Members
2019-2020
Tessa Castor
Stephen Le
Sheldon Hawthorne
Lizzy Santana
Emily Robinson
Sam Beck
Eric Farbes
2018-2019
Ryan Pangracs
Jack Warring
Tanner Schartz
Matthew Porter
Arthur Anderson III
Tessa Castor
Albanee Garcia
Sheldon Hawthorne
Sam Beck
2017-2018
Tanner Carlson
Tessa Castor
Melissa Connel
Ryan Pangracs
Matthew Porter
Tanner Schartz
Jack Warring
2016-2017
Stephen Gehly
Meagan Morrow
Allie Petrovich
Matthew Porter
Carlene Dick
Melissa Connell
2015-2016
Stephen Gehly
Meagan Morrow
Phoebe Muldrow
John Rohr
Emily Tilton
Quenton Todd
2014-2015
Meagan Morrow
Emily Tilton
Shane Schrag
Caitlin Harris
Zenas Lopez
Paul Mata
2013-2014
Shane Schrag
Caitlin Harris
Zenas Lopez
Aron Pfingsten
Paul Mata
Emily Tilton
Jordan Hill
2012-13
Chris Cole
Zenas Lopez
Paul Mata
Aron Pfingsten
RJ Schnack
Justin Tinker
2011-12
Chris Cole
Cody Davis
Justin Tinker
Kelcie Parrish
Jordy Train
2010-11
Abby Bartel
Chris Cole
Marilyn Craft
Cody Davis
Caitlynn French
CJ Johnson
Justin Tinker
Jordy Train
2009-10
Abby Bartel
Tommy Castor
Kyler Chase
Cody Davis
Thaddeus Carrena
Tabatha McMullen
Brett Smith
Jordy Train
2008-09
Abby Bartel
Tommy Castor
Kyler Chase
Aric Cherry
Cody Davis
Roger Klein
Tabatha McMullen
Brett Smith
Jordy Train
2007-08
Roger Klein
Kyler Chase
Aric Cherry
Brett Smith
Tommy Castor
Abby Bartel
Cody Davis
2006-07
Roger Klein
Kyler Chase
Aric Cherry
Brett Smith
Adam Sharp
Tommy Castor
Abby Bartel
Cody Davis
2005-06
Bernardo Alvarez
Michael Bumgarner
Tommy Castor
Kyler Chase
Julie Dumler
Matt Hodges
Sarah Kallail
Roger Klein
Josh Melcher
York Moon
Adam Sharp
2004-05
Bernardo Alvarez
Michael Bumgarner
Matt Hodges
Sarah Kallail
Josh Melcher
York Moon
Nick Sparacino
2003-04
Bernardo Alvarez
Michael Bumgarner
Matt Hodges
Sarah Kallail
Josh Melcher
Will Simbala
Nick Sparacino
Josh White
2002–03
Michael Bumgarner
Craig Fisher
Omari Head
Matt Hodges
Sarah Kallail
Josh Melcher
Ben Rivers
Will Simbala
Nick Sparacino
2001-02
Ben Benage
Michael Bumgarner
Josh Carver
Sarah Kallail
Will Simbala
Nick Sparacino
Ashleigh Videgar