Admission to Theatre
All students interested in theatre are encouraged to visit Southwestern College and meet the theatre faculty and students, and when possible see a show.
While on campus for a tour, one can also ask about visiting a class to get the experience of being a theatre student here at Southwestern. With a 13-to-1 student to teacher ratio, no one goes unnoticed in a classroom, and sufficient attention can be given to help a student to expand their knowledge, skills and maximize their talents.
Both Theatre Majors and non-Theatre Majors who are interested in Theatre are encouraged to explore the awards each year. Theatre scholarships are available based on talent, skills, experience, and participation level.
In addition, those who are interested in any major in the Performing Arts division and excel academically should request information regarding the Pillars Academic and Moundbuilder Spirit scholarships, Southwestern College's premiere scholarships given away each year to incoming freshmen.
---
Scholarship Audition Days 2020-2021
Spring 2021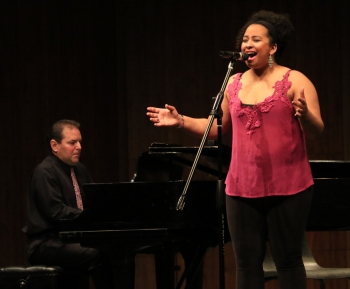 The Performing Arts Division invitation extends to any current High School senior or community college student in their final semester who is interested in majoring or minoring in music, theatre or musical theatre, or who wishes to participate in the division activities.
Those auditioning and interviewing will have a chance to see and experience the fine visual and acoustic qualities of Southwestern College's Richardson Performing Arts Center. They will meet and work with dynamic performing arts faculty members, who have presented at numerous national conferences and provided expertise to the region's arts educators. Our faculty is dedicated to nurturing intellectual development, aesthetic sensibility, and creativity through stimulating classroom and performance experiences while preparing students as professionals and advocates who cultivate the arts.
Sign up today!
Scholarship Audition Day Application
Audition Day Schedule
Auditions forTheatre majors/participants and Music majorswill begin at 1:00pm, students will sign-in and be assigned an audition time.
Auditions for BFA Musical Theatre majors and non-music major participants will begin at 2:45pm, students will sign-in and be assigned an audition time. There will be a dance audition for BFA majors after the BFA auditions are complete.
---
FOR APPLICATION, AUDITION AND INTERVIEW
All students interested in participation in theatre may apply for theatre scholarships regardless of their academic major.
The acting audition with theatre department faculty can be:
Prepared
The audition may be either:
1. specially prepared audition selections
2. cuttings from a show that the student has performed in on another occasion
3. formerly prepared forensic selections
Cold
An on-site preparation and rehearsal of one or more selections chosen by the faculty. This is a low key, low stress, and fun way of plumbing the students talents and flexibility as we rehearse a selection, trying it several different ways.
Digital Recordings and DVD Recordings
Students are always encouraged to visit campus, meet faculty and students in theatre, and examine SC's environment of support for the arts. If prospective students live at such a distance that they cannot audition with the faculty on campus, the theatre faculty welcome recorded auditions. Please describe in detail the moment in the production that you want to use and identify which character you are playing. (The one in the red dress, black cowboy hat, etc.) Audition recordings will be promptly returned.
Technical Interview
Students interested in technical work should interview and with representive materials or a portfolio.
We encourage students to not stress about the audition. In thirty minutes we can get to know each other and the exciting ways in which we can work creatively together.
For more information on Admission to Southwestern visit the Admissions website.
For answers to your questions concerning the Theatre Arts Department e-mail allyson.moon@sckans.edu