Upcoming Events
July 14, 2013 - 2:00pm
| Messenger Recital Hall
The Southwestern College Summer Theatre Festival in partnership with Marquee, Inc., will present "Tarzan" Thursday through Sunday, July 11-14 in Messenger Recital Hall in the Darbeth Fine Arts Center on the campus of Southwestern College.  Show times are at 7:30 p.m. on July 11-13 and 2 p.m. on July 14.  The show will be performed as an optional dinner theatre, and ticket options for show only or shows with dinner are available.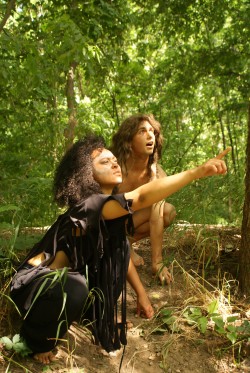 "Tarzan" is a musical based on the Disney animated film, telling the adventure-filled story of a young boy raised in the jungle. 
Allyson Moon, director of "Tarzan," says that Messenger Recital Hall will have a jungle-like feel.
"We are transforming Messenger into a jungle," Moon says.  "From the moment you walk into the lobby and into your seat, you will have the feeling of being in a jungle. From a canopy over your head to the action all around you.  And yes, there will be people swinging on vines."
The musical score for the show was done by Phil Collins and Moon says that is an important element to this production.
"Two things that make this show extraordinary are the script and the music," Moon says.  "The percussive sounds of Phil Collins just pervade. It is integral for the musical score and that percussive beat drives the action."
The cast includes: Tarzan's father – Clayton Bauer; Tarzan's mother – Emily Tilton; gorilla mothers, fathers, brothers, and sisters -Sydney Anderson, Clayton Bauer, Dante Burch, Julian Cornejo, Julia Faust, Megan Haynes, Payten Humphreys, Juliette Lowrance, Whitney Martin,  Matthew Porter, Avery Hogan, Nikia Smith, Emily Tilton; Kala – Mariah Warren; Kala understudy – Julia Faust; Kerchak – Zach Williams; Leopard – Sydney Anderson; Young Tarzan- Lucas Smith; Young Terk – Jordan Crable; Terk – Monet Watson; Terk understudy – Matthew Porter; Tarzan – Shane Shrag; creatures of the jungle (jungle flowers or animals and gorilla youth) –Kaylie Aikins, Bennett Boyle, Jordan Crable, Abigail Denly, Klara Flom, Sakura Groom, Dakota Holland, Katrina Holland, Marley Hoskins, Brady Swanson, Sage Swanson, Frankie Tilton, Bella Wood, Elena Woodburn, Ruby Woodburn, Bryce Sexson, Alec Handlin, Lucas Smith; Jane – Alessandra Bevilacqua; Porter – Aron Pfingsten; Clayton – Jacob Marney; Snipes – Matthew Porter; expedition crew – Dante Burch, Avery Hogan, Clayton Bauer, and Julian Cornejo. 
Moon says that the actors' biggest challenge in this production is physical.
"The physical movement of the portrayal of the gorillas and the other animals and wildlife of the jungle has been enormously challenging and the cast has worked on this since day one," Moon says.  "It is physically demanding on each and every actor to be able to use their muscles in ways they are not used to.  Rachel Brown and Yazmin Wood (choreographers) have worked on multiple workshop sessions with the performers to help them train their bodies to move like the jungle creatures."
Along with Moon as director and Brown and Wood as choreographers, the production team includes Matt Berthot, music director; Aron Pfingsten and Lacie Wallace, stage managers; Nikia Smith, house manager and dinner manager; Roger Moon, set, lights, sound, and props advisor; Juliette Lowrance, scenic designer; Geoffrey Moon, lighting designer; and Rachel Rose, costume designer.
Moon has been impressed with Matt Berthot and how he has implemented a mentoring program with the cast.
"He (Berthot) has been working to train the entire cast in all the right ways from warm-up to the learning of the songs," Moon says.  "He has approached it differently; the young actors have an older mentor, either a high school or college student, who is their singing partner.  He has employed a mentoring program to help the youth learn the appropriate ways to approach and memorize the music." 
Dinner times are 6 p.m. on July 11-13 and 12:30 p.m. on July 14 and the meal will be held in the Java Jinx in the Roy L. Smith Student Center. Tickets for dinner and show are $25 for adults, $23 for seniors, $20 for students, and $18 for youth. Show-only tickets are $10 for adults and $5 for youth.
For tickets and information, call the SC box office at (620) 221-7720 or (620) 229-6171. 
(Photo:  Kala (Mariah Warren) shows Tarzan (Shane Schrag) a new creature in the jungle.)