News
June 15, 2011
Part two of the "Tuna Trilogy" will be presented on Saturday, June 18, in Messenger Recital Hall inside the Darbeth Fine Arts Center on the Southwestern College campus.

"A Tuna Christmas," featuring Roger Moon and Dan E. Campbell, takes the audience back to Tuna, Texas, the third smallest town in the state.  It's holiday time and radio personalities Thurston Wheelis and Arles Struvie report on Tuna's yuletide festivities, including a fierce competition in Tuna's annual lawn display contest.  The Christmas Phantom is once again on the loose to throw a monkey wrench into the works.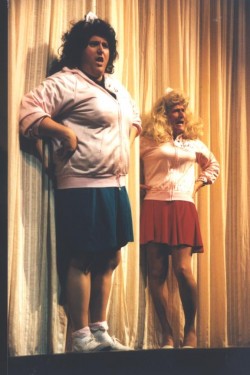 "It is lots of fun for audiences to see what happens to the characters from the first play as the insanity of the holidays in Tuna grabs hold of them and won't let go, and it is equally fun for Roger and me to develop the characters," said Campbell. 
"There are new characters in 'A Tuna Christmas,' too, and they bring more craziness than audiences can imagine," adds Moon. 

"A Tuna Christmas" will be presented as a staged reading with the actors changing characters without leaving the stage. A holiday dinner will be served in the Horsefeathers & Applesauce style at 6 p.m. with a 7:30 p.m. performance.

Show only ticket prices are $10 for adults and $5 for students.  Dinner and show ticket prices are $25 for adults, $23 for senior citizens, $20 for ages 13-18, and $18 for ages 12 and under. 
               
The dinner is a Texas turkey Christmas dinner with 'all the fixin's,' says Allyson Moon, director of the production.  "SC's Sodexo food service is doing a great job, as they always do for us."

For tickets or more information about the performances call the SC box office at (620) 221-7720.