News
June 29, 2011
The fully staged "Red, White & Tuna," directed by Allyson Moon, will run Thursday, June 30, to Saturday, July 2. "Red, White & Tuna" is the third installment in the Tuna trilogy, celebrating Independence Day with Tuna's preparation for its annual high school reunions. Dinner will be at 6 p.m. with performances in Messenger Recital Hall in the Darbeth Fine Arts Center on the Southwestern College campus at 7:30 p.m.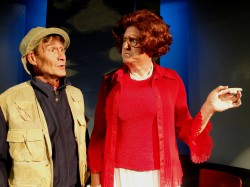 Show only ticket prices are $10 for adults and $5 for students.  Dinner and show ticket prices are $25 for adults, $23 for senior citizens, $20 for ages 13-18, and $18 for ages 12 and under.  For tickets or more information about the performances call the SC box office at (620) 221-7720.

The dinner will begin with four-bean salad and dilly bread with apple butter.  The main course is barbeque beef, butter fan potatoes, and watermelon.  Filled apple dumplings will be served for dessert.  Dinner will be served in the Southwestern College dining hall in the Roy L. Smith Student Center.

The Tuna trilogy of plays feature two actors, Horsefeathers & Applesauce alums, Dan E. Campbell and Roger Moon, who bring to life more than 24 characters, including men, women, and critters.  The three comedies, "Greater Tuna," "A Tuna Christmas," and "Red, White & Tuna" are known for their split-second costume changes and side-splitting storylines which guarantee an uproarious theatre.  

All the money raised from "Red, White, & Tuna" will go towards the renovation of Richardson Auditorium as a new performing arts center at Southwestern College.