News
February 09, 2012
Ibsen's "Hedda Gabler" will be performed by SC theatre students and Campus Players Thursday through Sunday,  Feb. 23-26, in the Helen Graham Little Theater on the Southwestern College campus.  For ticket information, call the SC theatre box office at (620) 229-6272 or (620) 221-7720.

"We are doing one of the great dramas of theatre literature," says SC theatre director Roger Moon.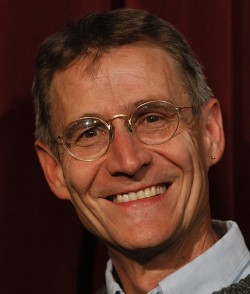 Set in 1891 in Kristiania, Norway, the play examines the life of the title character, Hedda Gabler, but also delves deeper into human passions as Hedda tragically struggles to affect a human life, to create beyond herself. 

The production of "Hedda Gabler" is a creative leap for Moon and SC theatre students.

"We are an educational institution, and our students want and need to be able to wrestle deeply with classic and universal dramatic materials, and to be able to carry those dramas from the page to the stage. 'Hedda Gabler' is as complex as 'Hamlet.' It is a piece that great actors struggle over all their lives," Moon said.

To further bring to light the deeper issues of Ibsen's tale, the SC theatre students will perform the play as a staged reader's theater. 

"In a staged reading, the audience can hear the words and imagine the action, rather than simply seeing the actors play the roles in costumes saying 'believe that I am this person,'" Moon explains. "Instead they're saying 'I'm speaking from and for this person' and the audience imagines the play acted out. It's like a great old-time radio drama, it's live. The live part of it is particularly exciting, because the audience knows they are engaging their imaginations at a new level, helping to bring the characters and story to life."

A staged reading also gives student actors the freedom to dig deeper into the truth's Ibsen reveals in his work.

"It allows us as an educational project to spend our rehearsal time digging into analysis. We're spending night after night, asking questions and finding answers," Moon said. 

The SC production is also unique in that Moon has cast two actors in most of the roles.
"We have the two casts so that as those different people create the scene the two different actors can figure it out individually and work together to analyze their work," Moon says. "They are becoming more invested in this process so that the telling of the story comes out of them, the actors, and less out of me, the director. That's what we all want for their educational experience, and the audience will experience a deeper and richer performance."

Many people have come together to make SC's "Hedda Gabler" a diverse and creative experience. Their talents run the spectrum from new actors, to technical crews and collaborators in other departments.

"This extremely high level of collaboration is a hallmark of the work we do here at Southwestern, and we know our audiences expect it," Moon says.