News
April 05, 2012
Brandon and Jenny Blackburn are currently working alongside the Southwestern College Theatre Department with its production of "Children of Eden." Brandon Blackburn, who conducts the SC Jazz Band, Jazz Combo, and SC Concert Band, is serving the production as the percussion master.  Jenny Blackburn, who teaches dance at Friends University and at the Southwestern's Community Music School, is assisting as choreographer for the production.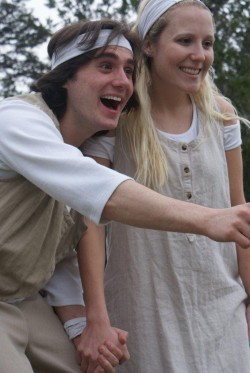 Jenny is focusing on choreography that is appropriate for the time period in addition to being smooth and fluent.

"I have drawn from West African dances and gospel choir styles of movement, as well
as foxtrot, and even helping the students move as animals," Jenny says.

Brandon is looking forward to his role as percussion master.

"While I do have experience writing and playing percussion, I haven't had the chance to add it to a show in the past," Brandon says. "To the best of my knowledge adding percussion to a show, especially onstage, is not incredibly common, so I am really enjoying this experience. It's always fun to bring what you do into a different venue or scenario."

Brandon has enjoyed working on this production with his wife.

"It's been inspiring and fun to work alongside my wife," Brandon says.  "We communicate very well (obviously), and being in this scenario really helps the creativity flow, so I think it's beneficial for both of us. We hope to continue to find opportunities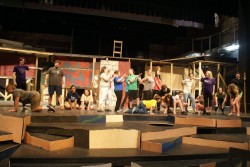 like this in the future."

According to director Allyson Moon, "Children of Eden" is a musical inspired by Genesis and the early books of the Bible.  Written by John Caird, with music and lyrics by Stephen Schwartz (creator of "Godspell," "Wicked," and "Pippin"), the musical celebrates creativity and the family.  The action of the play is driven by a tribe of people, perhaps survivors of an apocalyptic event, who sing, dance, and enact the stories of their creation and of the great flood.

"Children of Eden" will be performed in the Richardson Performing Arts Center, Thursday-Sunday, April 12-15, with show times at 7:30 p.m. on April 12-14 and 2 p.m. on April 15.  The show will be performed as an optional dinner theatre. Dinner times are 6 p.m. on April 12-14 and 12:30 p.m. on April 15 with the meal served in the Helen Graham Little Theatre. Tickets for dinner and show are $25 for adults, $23 for seniors, $20 for students, and $18 for youth. Show-only tickets are $10 for adults and $5 for youth.