News
July 05, 2012
Excitement, laughs, and lots of chocolate are on their way to the stage at Southwestern College with the production of Roald Dahl's timeless story "Willy Wonka and the Chocolate Factory." Audiences will enter a world of pure imagination in this scrumdiddlyumptious musical adaptation of "Charlie and the Chocolate Factory." The show will be presented by the college as a dinner theatre, in partnership with the Marquee theatre.


"The book 'Charlie and the Chocolate Factory' is a classic about growing up and making tough choices," says director Roger Moon. "It has been an inspiration to the imaginations of both children and adults for years."

The story follows world-famous candy man Willy Wonka (Shane Schrag) on his quest to find an heir for his candy factory. Five boisterous children get the opportunity to tour the factory with their parents, and one by one are eliminated until one lucky child remains.

"What I'm really excited about is that the musical is the best of the book and the movies," Moon says. "It has the best of the old music with new music created for the stage, and tells the story in such a way that it is delightful to children of all ages."
The cast for the production is full of variety, including Southwestern students, alumni, and more than 30 community children. Moon says he loves working with community children, and has for many years.

"Working with families, and kids of all ages, shows how much talent is in our community," says Moon.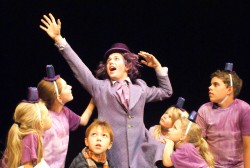 The cast will serve a roast beef dinner before the show, meant to replicate the roast beef dinner Violet (Allie Lawrence) tastes when she chews the Everlasting Gummy Gourmet Gobstopper gum. Dessert will be blueberry ice cream.

Performances are Friday, July 13, and Saturday, July 14, with show at 7:30 p.m. and a 6 p.m. dinner, and Sunday, July 15, at 2 p.m. with a 12:30 p.m. lunch. Meals will be served in the Roy L. Smith student center and performances will be in the recently renovated Richardson Performing Arts Center.

Devices to assist those with hearing problems are available in the box office, and an area is reserved for handicapped patrons and their companions in the rear of the hall.

For more information or for reservations, call the Southwestern box office at (620) 221-7720 or (620) 229-6171, or visit the Southwestern theatre website at www.skcans.edu/theatre.