News
August 17, 2012
The Tony Award winning comedy musical "The 25th Annual Putnam County Spelling Bee" will have one last Winfield showing on Friday, Aug. 24, at 7:30 p.m., in Messenger Auditorium in the Darbeth Fine Arts Center of Southwestern College.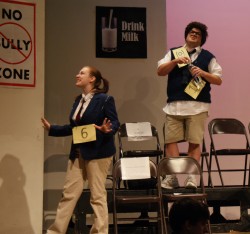 "This is your last chance (to see this show)," says director Allyson Moon.  "If your friends or neighbors told you what fun this show is, here is your opportunity to see it for yourself."

"The 25th Annual Putnam County Spelling Bee" follows the experience of six young overachievers, each competing for the spelling championship of a lifetime. They are overseen by Rona Peretti (Julia Faust) who is a former spelling champion herself, and vice principal Panch (Aron Pfingsten) who has recently returned from a five-year hiatus after an "incident."

The adolescents sing their way through the trials and tribulations of the spelling bee. Leaf Coneybear (Carter Humphreys) tells about the embarrassment of being dumb in "I'm Not That Smart." Another funny moment, according to Moon, occurs when Logainne Schwarzandgrubenniere (Lenita Krejci) reveals just how badly she wants to win in "Woe Is Me."

"Every competitor has a moment in the spotlight throughout the bee," Moon says.  "Ultimately the six young people, and maybe the adults as well, learn that winning isn't everything and losing doesn't necessarily make you a loser. After all, losing hurts less when Mitch Mahoney (David Cantu), the recently paroled 'comfort counselor,' is there to give you a juice box and a hug."

Other roles include William Barfee (Matt Berthot), Olive Ostrovsky (Alessandra Bevilacqua), Marcy Park (Lauren Kohpay), Chip Tolentino (Shane Schrag), Coneybear's mom (Lisa Prater), and Coneybear's sister (Payton Humphreys).

The production debuted June 22 and was a huge success according to Moon.

"I think the audiences were surprised by how much fun they had seeing their fellow audience members become part of the production," Moon says.  "They were pleased by the performance of the most talented cast which ranges from high school freshman to high school teacher.  I think they were touched by some of the stories as the lives of the different spellers were unfolded."

Ticket prices for the show are $10 for adults and $5 for students and youth. 

Southwestern College faculty, staff, and students will be admitted with no admission charge.

For more information or to make reservations, call the Southwestern box office at (620) 221-7720 or (620) 229-6171.