News
November 28, 2012
The Southwestern College Campus Players will present their 80th annual production of "Eagerheart" by A.M. Buckton. This year's production of "Eagerheart" will be held in the Helen Graham Little Theatre in the lower level of the Christy Administration Building on Sunday, Dec. 2, at 6:30 p.m. It will also be presented on Wednesday, Dec. 5, at 11 a.m. and 6:30 p.m.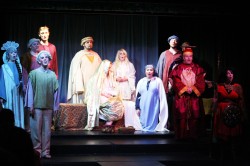 "Eagerheart," by early 20th century English playwright A.M. Buckton, celebrates the legend that Christ and the Holy Family travel the earth each year, blessing one deserving home where they rest on Christmas Eve.   Eager Heart and her sisters, Eager Fame and Eager Sense, along with shepherds and Kings of Power, Wisdom, and Love, reveal their understanding of Christ and His teachings.  The search for the Holy Family is tested by beggars seeking food and shelter.  The play challenges and inspires audiences to live by Christ's teachings throughout the year. 

According to director Roger Moon, the production of "Eagerheart" this year will be the traditional version.

"For the past three years, we have modified the production because we have taken it out on tour," Moon says.  "This year we are returning to the traditional staging of 'Eagerheart.'"

This annual production is the Campus Players gift to the community so there is no admission charge, however seating is limited so tickets need to be reserved.  To make reservations, contact the performing arts office at (620) 221-7720 or e-mail performingarts@sckans.edu.

In the spirit of giving, Campus Players are encouraging those attending to make a donation of money or canned goods to support the Winfield Food Pantry in their endeavors to help those in need. Green Team Southwestern encourages those attending to donate clothing.  Boxes will be set up near the Helen Graham Little Theatre to collect the clothing which will be given to Central Baptist Church in Winfield.  Volunteers will then disperse the clothing to those in need in Winfield.