News
July 17, 2013
The Southwestern College Summer Theatre Festival will present "I Love You, You're Perfect, Now Change" Thursday through Sunday, July 25-28, in Messenger Recital Hall in the Darbeth Fine Arts Center on the campus of Southwestern College.  Show times are at 7:30 p.m. on July 25-27 and 2 p.m. on July 28.  The show will be performed as an optional dinner theatre, and ticket options for show only or shows with dinner are available.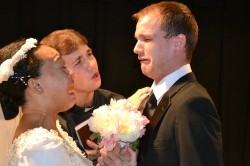 "This is a musical comedy about marriage that doesn't pull any punches," says director Roger Moon.  "It's about people's need for love and marriage, the need and the struggle to be accepted and loved. The music is clever with well-written lyrics."
Moon says that some language and situations in the show are probably not appropriate for youth.

"This is a PG or PG-13 show, high school age and up," Moon says.

Music director Cynthia Compton has been a big fan of this show since she first saw it. 

"I saw it for the first time in Dallas," Compton says.  "They (theatre owners) kept trying to stop the show and go back to a regular schedule but the audience just coming back and back and back. Everyone that comes to the show will find something that they can relate to."

Actors Shane Schrag and Julia Faust were enthusiastic supporters of doing this show.  They had presented a scene from "I Love You, You're Perfect, Now Change" in January at the Kennedy Center American College Theatre Festival and advanced to the semi-finals, so both of them wanted to perform the whole show at SC.

"I feel like this show strikes a chord," Schrag says.  "It seems like with my college friends, somebody is always having some sort of relationship trouble."

"What strikes me about this show is the diversity of the characters," Faust says.  "It is a big challenge to take on characters who are older and different."

Eight actors are cast in the production. They are Schrag, Faust, Maria Warren, Zach Williams, Juliette Lowrance, Aron Pfingsten, Jordan Snow, and Nikia Smith.

The production crew includes Rachel Rose, stage manager; Julia Faust, house manager; Nikia Smith, dinner manager; Juliette Lowrance, costume designer; Emily Tilton, publicity manager; and Shane Schrag, props master.

The show is also a dinner theatre that will feature comfort foods.  The menu includes barbeque beef, dilly bread, and homemade ice cream.

Dinner times are 6 p.m. on July 25-27 and 12:30 p.m. on July 28 and the meal will be held in the Java Jinx in the Roy L. Smith Student Center. Tickets for dinner and show are $25 for adults, $23 for seniors, $20 for students, and $18 for youth. Show-only tickets are $10 for adults and $5 for youth.

For tickets and information, call the SC box office at (620) 221-7720 or (620) 229-6171.