News
November 07, 2013
The Southwestern College theatre department will create a dinner theatre production of James Goldman's "A Lion in Winter" Nov. 14-17.  The show is a dark comedy about the struggles of Henry II and Eleanor of Aquitaine.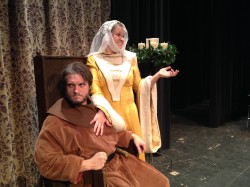 Set on the Christmas Eve of 1173, King Henry II (played by Aron Pfingsten, graduate student from Ulysses) brings his wife, Eleanor of Aquitaine (played by Julia Faust, senior theatre major from Dallas) out of imprisonment to a family gathering with their three sons and Henry's mistress, Princess Alais of France.  The celebration turns to crisis when Phillip II of France arrives and pressures Henry to marry Alais to the son who will become the next king, pushing Henry and Eleanor to the crisis of their lives as they battle through their history of loves, loss, jealousy, and sibling favoritism.

During these holiday times of togetherness, the dinner guests feel anything but together as everyone from the king's three sons to his prisoner wife to the king's young lover plot and play a dysfunctional chess game in a bid to lay claim to the coveted throne.  

"This extraordinary play is the 1968 Broadway script which Goldman adapted to the film starring Katharine Hepburn and Peter O'Toole," says director Roger Moon, SC theatre professor.  "As serious as the subject is, the play is a comedy in both its style, and ending, as Henry and Eleanor come to recognize the enormous consequences of mistaking 'provinces and people.'  SC and Winfield audiences are in for a treat with the brilliant cast of this show and the work they are doing." 

Other members of the cast include:  Jacob Marney, senior, Winfield, as Richard, the eldest son; Nathan Bales, junior, Mulvane, as Geoffrey, the second son; and Austin Davis, sophomore, Colorado Springs, Colo., as John, the third son, who eventually became King John.  Phillip Capet, King of France is played by William Wade, freshman, Bartlesville, Okla., and Alais, the princess sister of Philip, is played by Zoe Rea, sophomore, Salina.

"The Lion in Winter" will be shown Thursday through Saturday, Nov. 14-16, at 7:30 p.m., in the  Richardson Performing Arts Center in the Christy Administration Building on the SC campus. The show will also be presented as a matinee on Sunday, November 17, at 2 p.m. A medieval holiday dinner theatre experience is available for those interested.  Dinner times are 6 p.m. for the Thursday-Saturday shows and 12:30 p.m. for the Sunday show.  Dinner will be served in the Helen Graham Little Theater in the basement of the Christy Administration Building.
For tickets or more information, call the Southwestern College box office at (620) 221-7720 or (620) 229-6171. Information is also available on the Southwestern theatre webpage, www.sckans.edu/theatre.