News
March 05, 2014
There are three more performances of Adam Sharp's "A Modest Proposal" at Southwestern College.  The show will be presented Thursday through Saturday, March 6, 7, and 8, in the Helen Graham Little Theatre located on the lower level of the Christy Administration building.  The show will begin at 7:30 p.m. each evening.  Tickets are $10 for adults and $5 for youth.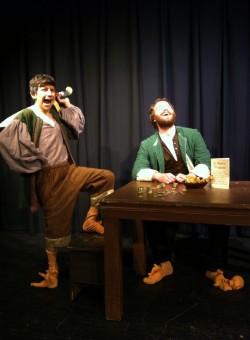 "The audience roared last weekend," says Southwestern College theatre professor Roger Moon.  "Don't let the word 'modest' fool you. This is an outrageous satire and not the least bit modest.  It's a wild ride for the poverty stricken family who live out the words of the brilliant proposal by Johnathan Swift."  

Dan E. Campbell, playing Johnathan Swift, said that what he loves most about the show is the wittiness of the writing.

"It is like you were set down inside a world where everything someone says is a non-sequitur, yet they think they are making perfect sense," Campbell says.  "Some of my favorite lines are those that just pop up out of nowhere and don't really have much to do with the plot, yet are totally in the character of whoever is saying them."

"A Modest Proposal," which is directed by SC alumna Bethany Simmons, is an original script based on Jonathan Swift's 1727 satire of the same name. The play deals with the poverty of a family in Ireland in the late 1720s, their lack of employment, debts, and their attempt to save their farm.

Performing in his final production at Southwestern College, senior Jordan Hill is amazed at the script.

"The craziest part of 'A Modest Proposal' has definitely been embracing the show's own unique brand of crazy. Adam's created a show that a lot of people aren't used to seeing, and he isn't afraid to take a risk for the sake of a joke he thinks is worth it," Hill says.

For more information about the show or for tickets, call (620) 229-7720 or (620) 229-6272. Information is also available on the Southwestern theatre webpage, www.sckans.edu/theatre.