News
April 01, 2014
The Southwestern College theatre department will perform the Tony Award-winning rock musical "Rent" Thursday through Saturday, April 10-12, at 7:30 p.m. in the Richardson Performi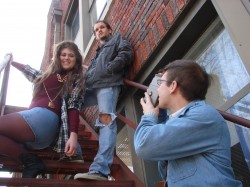 ng Arts Center.  The show contains adult language and themes.
"Rent" is a rock musical with music and lyrics by Jonathan Larson based on Giacomo Puccini's opera "La Bohème." It tells the story of a group of impoverished young artists and musicians struggling to survive and create in New York City's Lower East Side in the thriving days of Bohemian Alphabet City, under the shadow of HIV/AIDS.
"Rent" is directed by Allyson Moon with musical direction by Matthew Berthot. 
"We all need to love and be loved, we need outlets to express ourselves, and, on the most basic level, we need to be feel safe and secure," Moon says.  "Those needs drive the action for every character in 'Rent.'  From Mimi's song on the streets of Alphabet City, 'Out Tonight,' to Roger and Mark's comment on our commercial society, 'You Are What You Own,' to the entire cast's passionate plea for life in the title song, 'Rent,' and raucous celebration of it in 'Le Vie Boheme,' Jonathan Larson's passionately pulsing score drives home each message." 
"You only have one life; you only get one chance, so live to the fullest. This is the message Jonathan Larson portrays so well in this story," says actor Jordon Snow, who plays Roger in the production.  "Through song, dialogue, and dance, the character's stories are revealed as you go on a year-long journey with each one of them.  In the world Larson wrote about, it was necessary that these characters get to express themselves freely.  Because of this, there is some adult content and language in the show; however, it is necessarily used in order to convey the message in an effective way."
Tickets are $10 for adults and $5 for students.  For more information about the show or for tickets, call (620) 229-7720 or (620) 229-6272. Information is also available on the Southwestern theatre webpage, www.sckans.edu/theatre.