News
May 28, 2014
The Southwestern College theatre department and the Winfield Arts and Humanities Council are cooperating to offer four summer camps. The camps will focus on story theatre, music theatre performance, and improvisational acting.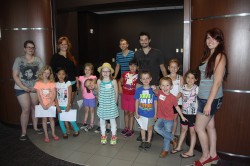 All of these are a part of the Southwestern College Summer Theatre Festival and will be held on the SC campus in Winfield.
• Music theatre performance camp is intended for children in grades four through six and will be June 2-6.  Musical theatre scenes, songs, and dances will be developed using creative dramatics and traditional rehearsal techniques.  Children will work with Allyson Moon and students from the Southwestern College theatre department on development of acting, singing, and dancing performance skills.  
• Improvisational acting camp is for youth in grades 9-12 and runs June 16-21.  All levels of experience are welcome.  Theatre gaming will primarily be used in process and performance.  Original characters and scenes will be developed.   Actors will work with Moon and members of SC's improv troupe, 9 Lives.  
• Playwriting camp (grades 6-8) and Advanced Playwriting camp (grades nine and up) will run June 16-21. The camp will help students develop their skills in writing original scenes and short plays.  All levels of experience are welcome. 
• Technical theatre camp is for any age of student and will run June 30 to July 3.  All levels of experience are welcome.  The camp will help develop skills in sets, lights, costumes, make-up, and more.  Students will work with Moon and SC Summer Theatre interns. 
Each day camp costs $20.  To register or for more information, contact the Winfield Arts and Humanities Council at (620) 221-2161.
The Community Music School (CMS) at Southwestern College is also offering opportunities for students and community members.  
• JourneyKids is a choral ensemble for students in grades 3-6 with unchanged voices who are wanting to have a fun time with other children their age through learning music. Auditions are on June 17 and 19 at Southwestern College. 
• Journeys is the new CMS Show Choir for high school and college-age individuals that are interested in learning both music and dance. This would be a great opportunity to have a brand new choral experience during summer break. 
• Viaggiare is the new community choir that is open to individuals, high school age and older. The choir will focus on a number of different genres and would be a great opportunity to learn new vocal techniques with other musicians from the community.
Audition dates for Journeys and Viaggiare are June 9-13.  Anyone interested in auditioning is asked to contact Moore to set up a time.
Dylan Moore, director of the CMS, highly encourages individuals that are interested in being in these groups to enroll with a private voice teacher in the community or through the CMS. 
"Whether you are a high school student exploring a different style of music or someone wanting to revive your love for this unique genre, this opportunity is one-of-a-kind," Moore says.
The CMS is currently enrolling students interested in taking private lessons in the areas of voice, piano, organ, percussion, and saxophone. Lessons are open to students of all ages. 
For more details, contact Moore by email at cms@sckans.edu or call (620) 229-6188.